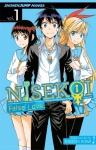 Nisekoi: False Love Vol. 1 TP
Publisher: Viz/Shonen Jump
Release Date: January 2014
Price: $9.99
Creator: Naoshi Komi
Format: 192 pgs., Black & White, Trade Paperback
Age Range: Teen
ISBN: 978-1-4215-5799-1
ICv2: Rating 3.5 out of 5 stars
This manga provides an unusual excuse for a high school love triangle, one that still leaves it plausibly in the
Shonen Jump
line of manga. Romantic comedy/high school/gangster stories are relatively rare.
Raku is the son of a higher-up in the Yakuza, but doesn't want to follow in the family business. A gorgeous girl transfers into his school, but they instantly dislike each other, for a variety of reasons. Then, it turns out that he and this girl have to pretend to be dating, in order to prevent a deadly gang war. Both sides have overly-protective violent criminals watching over the two teens. Talk about pressure on your romance! To add to the confusion, Raku has been trying to identify a girl who was briefly his childhood friend, with limited clues. Unfortunately, this new fake romance may have to last all the way through high school.
While the artwork is generic manga-style, the writing is interesting and offbeat enough to make the story worth trying. The gangsters alternate between deadly violence and slapstick comedy, which may not be to everyone's taste, but you don't see the bloodshed, so it mostly works.
Many teens and a few adults will enjoy the comedic and romantic hijinks.
--
Nick Smith: Library Technician, Community Services, for the Pasadena Public Library in California.