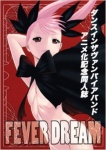 Seven Seas Entertainment has announced two new doujinshi collections tied to
Dance in the Vampire Bund
, the hot series by Nozomu Tamaki that Seven Seas just wrapped up last May with the release of Vol. 14 (see "
May BookScan--Top 20 Graphic Novels
"). The new volumes will collect manga originally published in ten individual books for the Comiket.
Doujinshi are self-published manga, and Comiket is the huge annual festival, attracting hundreds of thousands of people, to celebrate them (see "
International Doujinshi Fight
").
We asked Seven Seas'
Dance in the Vampire Bund
editor Adam Arnold to explain the provenance of the material. "The doujinshi collections feature new stories by Nozomu Tamaki along with a number of his fellow authors who happen to also be massive
Vampire Bund
fans," Arnold said. "Two of the primary contributors throughout all 10 of the original doujinshi releases are Tikurakuran and Gemma. These two authors wrote official side stories that were directly overseen and directed by Tamaki-sensei. The stories feature the first appearances of a number of supporting characters who would be seeded throughout the main series. Each of the stories is also accompanied by illustrations by Nozomu Tamaki."
Dance in the Vampire Bund: Forgotten Tales
will collect 192 pages of manga plus bonus material, and will be released in June.
Dance in the Vampire Bund: Secret Chronicles
collects 280 pages of canonical short stories overseen and with illos by Tamaki, plus bonus material, and will be released in October.
Seven Seas is also releasing several other
Vampire Bund
volumes in 2014. The fifth and final
Omnibus
, which will collect volumes 13 and 14, will street April 1st. Volume 2 of
Dance in the Vampire Bund: The Memories of Sledgehammer
will be released March 18th, and volume 3 on September 23rd.