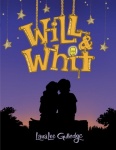 The Young Adult Library Services Association has released its 2014 list of the Great Graphic Novels for Teens published in 2013. The Committee charged with selecting this list narrowed down 122 official nominations to a list of 78 titles, including eight non-fiction and 70 fiction titles. Then a shorter list of the ten top titles is chosen, which "exemplify the quality and range of graphic novels appropriate for teen audiences."
Tessa Barber, the Chair of the Great Graphic Novels for Teens Committee, described the range of titles on the full list. "The 2014 Great Graphic Novels for Teens list explores ancient Chinese rebellions, first love, modern day Uganda, futuristic scenarios, civil rights in America and everything in between," she said.
Although the list is intended to be used by librarians and teens, it can also be a great merchandising resource for retailers, with high odds that a customer that buys a recommended book will enjoy it and be back for more.
Dark Horse Comics and First Second were the only publishers with more than one title in the Top Ten, each with two.
The YALSA Top Ten Graphic Novels for Teens from 2013:
Nonfiction
March: Book 1
, by John Lewis, Andrew Aydin and Nate Powell (Top Shelf, 2013)
John Lewis is a Congressman now, but back in the 60s he was a teenager standing up for justice.
Fiction
Will & Whit,
by Laura Lee Gulledge (Amulet Books, 2013)
Will faces her fear of the dark, new friends, love, a hurricane and the death of her parents.
The Adventures of Superhero Girl,
by Faith Erin Hicks (Dark Horse, 2013)
The life of a superhero is not all monsters and flying--especially when you have no archnemesis and a more popular superhero brother.
Dogs of War,
by Sheila Keenan and Nathan Fox (Graphix, 2013)
Dogs can be heroes, too.
MIND MGMT Vol.1: The Manager,
by Matt Kindt (Dark Horse, 2013)
A journalist trails a missing passenger from "Amnesia Flight 815" and discovers a much bigger mystery.
Rust V.2: Secrets of the Cell
, by Royden Lepp (Archaia, 2013)
Is Jet a killing machine or just a boy who's been used to fight a distant war?
War Brothers: The Graphic Novel,
by Sharon McKay and Daniel Lafrance. (Annick Press, 2013)
Kids are kidnapped and forced to be killers in Uganda's Resistance Army.
Strobe Edge
Vol. 1-6, by Io Sakisaka (VIZ Media, 2012-2013)
Ninako has fallen in love for the first time and must learn how to navigate her feelings.
Nothing Can Possibly Go Wrong,
by Prudence Shen and Faith Erin Hicks. (First Second, 2013)
The Cheerleaders and the Robotics Club team up to get money for their school activities.
Boxers & Saints
, by Gene Luen Yang (First Second, 2013)
Little Bao's peaceful village is disrupted when a priest and a group of soldiers begin terrorizing the locals. Four-Girl is unwanted by her family, and finds solace amongst the Christians who are invading her country.
The full list is available
here
.