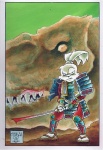 Dark Horse has announced a new benefit book,
The Sakai Project: Artists Celebrate Thirty Years of 'Usagi Yojimbo,'
for release July 23rd.
The Sakai Project
is produced in association with the Comic Art Professional Society (CAPS), which has been raising money to help Sakai and his wife Sharon with her medical expenses. Sharon has a debilitating disease and is now home after an extended hospital stay and convalescence, and requires round-the-clock care and medicines beyond what the family's insurance covers (see "
Stan Sakai Friends Raise Money
").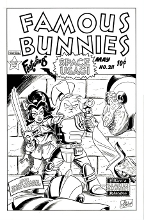 The book includes contributions from high profile comic creators from all over the world, including Brian Michael Bendis, David Mack, Eric Powell, Jeff Smith, Joyce Chin, Matt Groening, and Mike Mignola, among others. All the creators and Dark Horse are contributing their efforts to the cause.
"With the thirtieth anniversary of his most beloved creation, Usagi, and in a time of need for Stan and his family, we are honored to publish this tribute to Stan and his work," said Dark Horse's president, Mike Richardson.
The full list of participating creators is pretty impressive:
Adam Hughes | Alain Mauricet| Alex Maleev | Allison Sohn | Andy Grenen | Arthur Adams | Batton Lash | Bill Morrison | Brian Ching & Michael Atiyah | Brian Michael Bendis | Charos D'Anda & Gabe Eltaeb | Chris Scalf | Dan Panosian | Dave Gibbons | David Mack | Doug Wheatley | Edgar Delgado | Eric Powell | Gabriel Hardman | Geof Darrow | Howard Chaykin | Jan Duursema | Jeff Smith | Joyce Chin | Mark Crilley | Matt Groening | Matt Wagner | Michael Allred | Michael Avon Oeming | Michael Golden | Mike Kunkel | Mike Mignola | Oscar Martin | Paul Gulacy | Paul Renaud | Phil Yeh | Richard Corben | Scott Shaw | Sergio Aragones | Stephanie Gladden | Tim Sale | Tom Mandrake | Tom Richmond | Walter Simonson | William Stout