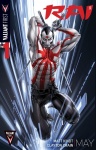 Valiant has announced the
Valiant First
initiative to debut new series monthly through 2014 beginning in May with
Rai #1.
The initiative will overlap with the previously announced summer crossover
Armor Hunters
event (see "
'Armor Hunters' Is Valiant's 2014 Crossover Event
" and "
Valiant 'Armor Hunters' #0 Story
"), including three Armor Hunters mini-series. Additional debut titles include
The Delinquents
and
The Death-Defying Dr. Mirage.
Valiant plans to announce a number of sales incentives, returnability offerings, and promotional material for retailers in conjunction with the initiative.
"The defining goal of
Valiant First
is to give readers clear and accessible jumping-on points," said Valiant Executive Editor Warren Simons.
"The
Valiant First
line-up was very specifically chosen, and will continue our 'slow and steady' approach to growth. You won't see Valiant putting out more than nine core titles a month in 2014," said Valiant Publisher Fred Pierce.
The following list includes title debuts through September, with Valiant confirming more monthly title announcements for the remainder of 2014 to follow at a later date.
May's debut title will be
Rai #1,
first issue in an ongoing series by Matt Kindt (
Mind MGMT
), with art by Clayton Crain (
X-Force
).
See picture above.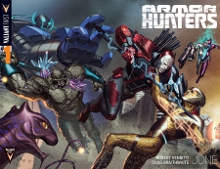 June will bring
Armor Hunters #1
, a mini-series by Robert Venditti (
X-O Manowar
), with art by Doug Braithwaite (
Unity
).
Click any picture for larger view.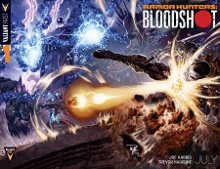 In July, the
Armor Hunters: Bloodshot #1
mini-series begins, written by Joe Harris (
The X-Files: Season 10
), with art by Trevor Hairsine (
X-Men: Deadly Genesis
).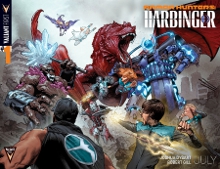 Also in July is the
Armor Hunters: Harbinger #1
debut, written by Joshua Dysart (
Harbinger Wars
), with art by Robert Gill (
Batgirl
).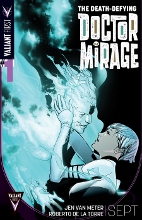 August's debut title is
The Delinquents #1
, written by Fred Van Lente (
Marvel Zombies
) and James Asmus (
Thief of Thieves
), with art by Kano (
Gotham Central
).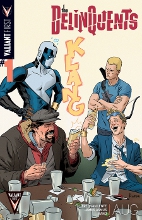 The Death-Defying Dr. Mirage #1
will debut in September, written by Jen Van Meter (
Hopeless Savages
), with art by Roberto de la Torre (
Daredevil
).