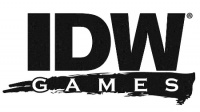 Exclusive.
IDW Games is launching its first game,
Kill Shakespeare
, by simultaneously soliciting through both Kickstarter and distribution (see "
IDW Games Launches with 'Kill Shakespeare'
"). We talked to IDW CEO Ted Adams about the strategy, the game, and the launch of the company's new games division.
Why Kickstarter for your first game, Kill Shakespeare?
Kickstarter gives us an opportunity to directly engage the fans and essentially create a more immersive experience for them. It offers us a chance to do rare and exclusive items and upgrades to our products that we don't know how to do with any other distribution model. I think more than anything, Kickstarter is a good way to introduce IDW Games to the world and gives us a chance to promote the relationship that we have with Pandasaurus Games.
You're looking to Pandasaurus for Kickstarter expertise?
Absolutely. We've been working very closely with Pandasaurus because they have some expertise there. I have a couple of guys on staff that have done Kickstarters in previous jobs, and we've been working closely with the
Kill Shakespeare
creators. They're very hands on with everything
Kill Shakespeare
because this is their baby. They've had some good advice on how to do this as well.
One of the basic questions for a Kickstarter is identifying a base to grow from. So Pandasaurus has their previous Kickstarter customers, you have people who have previously engaged on Kill Shakespeare, so between the two is a place to start?
Correct. It will be three-pronged approach: Pandasaurus, IDW and the
Kill Shakespeare
creators.
How will you reach retailers?
Kickstarter is the way to build fan interest in a quick way, but it'll also have traditional distribution via
Previews
catalog, Alliance, and all the other game distributors. We'll be at GAMA promoting both
Kill Shakespeare
and also talking about the games that we have planned for this year. We'll be at GAMA talking directly to retailers this year.
You've also announced 30 Days of Night. Will you announce other games at GAMA?
We are. This first year you could see as many as six to nine games from IDW Games. We have a great line-up planned, and are getting emails from creators on almost a daily basis who are interested in doing games. It's going to be a mix of games that are based on IDW properties, some that Pandasaurus has in development, and some licensed properties. We're going to bring that expertise that we have in our licensed comic book business to our games as well.
Why Pandasurus?
We like their games. That is what drove us to them. Typically when we try to do anything, whether it's a new comic book or a new division like this, we want to get into business with somebody where we like what they do. A lot of us here, including myself, have been playing the Pandasaurus games and really like them. That led us to contact them and we were lucky enough that they were interested in getting into business with us.
They're not one of the bigger games companies.
And I think that's part of the opportunity for both sides. We are a much bigger company, but our expertise is in the comic and book space. They're a smaller company but have this good level of expertise in the games space. One of the things we bring to them is our business infrastructure and access to capital. We can bring those things since we've been in business for 15 years and can help them grow. And they bring that expertise in the games space for us.
Will IDW or Pandasaurus be selling the games to the trade?
IDW. We will be.
So you have to form relationships with all the games distributors?
Yes. We're about to announce a new sales person who will be handling that for us who has a lot of experience in that space.
Which categories of games are you planning to do?
We're open to anything. Our portfolio will be primarily big and small box games, but not to say that we wouldn't also be willing to look at card games as part of our portfolio later in the year. When we talk about those first six to nine games, it'll be a mix of the big and small box board games.
All the games will be designed by Pandasaurus designers?
Not necessarily people under the employ of Pandasaurus, but freelancers and game designers that they've worked with.
The turnaround time between the Kickstarter and releasing in May is tight. What's the current stage of development? Will it be ready to ship in May?
Yes. And I think that's part of what we bring to this process because we publish 70-plus books a month. We know very well how to get things made. Our comic printer is going to handle the print production for the games for us. We've been working with him on production schedules and pricing for six months or more. He very much knows what needs to be produced and is giving us really realistic schedules on when we need to get it to him so we can meet our deadline.
That's part of what IDW will bring to this that will hopefully elevate the games space to a certain extent. The comic and book space knows if they're going to get an IDW comic, hardcover or graphic novel, that it's going to be extreme high quality. It's what we built our business on--both print production quality and design quality—and we're going to bring that to the games to the point where we're using our comic book printer to manufacture these games for us.
As far the actual game development, the game is 95% done. It's been going through play testing. I did a play test four or five months ago. The
Kill Shakespeare
game, for all intents and purposes, is pretty much done.
Are you going into any channels besides comic stores and game stores?
Not initially. That will be on a case by case basis. Certainly we have the licensed game that we're going to announce at GAMA and that will potentially have broader distribution than say a
Kill Shakespeare
game, but in the early days, we're really going to focus on the direct market and the hobby game market.