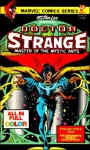 Marvel is digging into the development work on
Doctor Strange
, according to
Hollywood Reporter
, talking to possible directors and writers for the film. Marvel Studio's Kevin Feige has confirmed that a
Doctor Strange
movie will be part of Marvel's Phase 3 (see "
'Doctor Strange' Movie Confirmed
"), but the film needs a script and a director.
Marvel is reportedly talking to four possible directors: Mark Andrews (
Brave
), Nikolaj Arcel (who's been circling several comic-based films, including
Fables
, see "
'Fables' in Development
" and at one point,
Deadman
, see "
'Deadman' Movie Gets a Writer
"), Dean Israelite (
Welcome to Yesterday
), and Jonathan Levine (
Warm Bodies
).
Kung Fu Panda
writers Jon Aibel and Glenn Berger are in consideration as a possible writing team, according to the report.