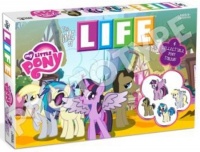 USAopoly had a plethora of licensed game announcements at Toy Fair, and here we round up those not covered in previous stories.
The Game of Life: My Little Pony
will release in the summer, with an MSRP of $39.95. Fans of
Friendship is Magic
can journey around Equestria with Dr. Hooves, DJ Pon-3, Muffins and Twilight Sparkle.
Several new
Monopoly
versions are planned, including two with window boxes with oversized zinc tokens.
Monopoly: The Legend of Zelda
and
Monopoly: Pokemon
are both planned for September release and have MSRP of $45.00. The
Pokemon
game will carry the classic Kanto region theme.
USAopoly plans two versions of
Monopoly
tied to
Teenage Mutant Ninja Turtles
, a property which is celebrating its 30th Anniversary this year. One will be based on the current (2012) Nickelodeon cartoon version, and release in July with a $39.95 MSRP. The "retro" version will feature characters and images from the 1987 cartoon, and release in September with an MSRP of $49.95.
Monopoly: WWE
will feature current stars of the World Wrestling Federation. It is planned for spring release.
Monopoly: The Big Bang Theory
will release in June and will be the first
Monopoly
game to feature seven tokens.
A trio of releases for
A Christmas Story
is planned for third quarter release, including
Monopoly: A Christmas Story,
Yahtzee: A Christmas Story,
and a 3' tall leg lamp puzzle.
Making full use of its license of daVinci's Wild West card game
Bang!
, USAopoly plans a version based on Blizzard Entertainment's forthcoming fall video game
Heroes of the Storm.
The new video game will be a mash-up brawl match between popular characters from the
World of Warcraft, StarCraft
and
Diablo
franchises. Release is planned for third quarter, timed after the video game release, with an MSRP of $24.95.
Red vs. Blue will have a new iteration in September when
Bang!: Halo
is released. Master Chief will undoubtedly enjoy playing the Clint Eastwood cowboy-of-few-words role when the Wild West game meets the
Halo
universe. MSRP will be $24.95. There is also a Halo version of TACDEX planned for August (see "
Borg's 'TACDEX' From USAopoly
").
Two new versions of
Yahtzee
are planned.
Yahtzee: Transformers
will be a fall release and features a dice cup in the shape of Optimus Prime's head. Like
Yahtzee: The Walking Dead
(see "
USAopoly's 2014 'Walking Dead' Products
"), this version will include the new "Battle Yahtzee" style of play. The other version is
Yahtzee: Plants vs. Zombies
, which, when released, will have an MSRP of $24.95.
Connect 4: Super Mario
is planned for spring release and will pit Mario and Luigi against each other. MSRP is $24.95.
For other major USAopoly property announcements see "
USAopoly Plans 'Firefly' Games
" and "
'Risk: The Dalek Invasion of Earth'
."