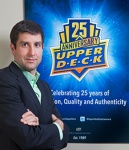 Upper Deck is celebrating its 25th anniversary this year, and we took the opportunity to interview Jason Masherah, who became President of the company after the untimely death of CEO Richard McWilliam last year (see "RIP Richard McWilliam"), about the company, the market, and the occasion of its anniversary.
How long have you been at Upper Deck?
I've been at Upper Deck almost eight years now. I started out as the basketball brand manager, I took over baseball, and from there went to Director of Sports Marketing. Then I took over as VP of Marketing and Business Development and took over the memorabilia side as well as the entertainment side of the business.
How is company different now that Richard McWilliam is gone?
That's a really tough question. For us, it hasn't really changed all that much. We try to keep his innovation and drive and the spirit of the company alive. A lot of the core tenets that he put in place with authenticity, quality, and innovation are still here. The way the company operates internally has not changed much.
Richard was known for his pugnacious interaction with other companies. Has that aspect of the company's personality or culture changed?
One of the things we've focused on in the last year and a half is really being focused on our own business--making sure we're doing the right thing for consumers as well as comic book, trading card and gaming shops. We really focused on Upper Deck and building the best quality product that we possibly can. Really listening to the consumer and getting their feedback.
There's been a fair amount of change in Upper Deck's business in the last five or 10 years. Can you go through and describe the current groupings of Upper Deck businesses?
When you think of Upper Deck, you think of three business units: there's sports trading cards, there's entertainment trading cards and gaming, and there's authenticated memorabilia. Each one has a different persona to it, but each unit has evolved through time. Even the authenticated memorabilia side of the business unit has done some Marvel and entertainment collectibles throughout the history of the company.
The entertainment side has definitely evolved from when I took it over. When we parted ways with
Yu-Gi-Oh!
and then subsequently
World of Warcraft
, it was rebuild from scratch, an opportunity to really rethink what we wanted to be and where we wanted to go with things. We really concentrated on our two core licenses which at the time were Marvel and
Hello Kitty
, and we've built out from there.
Do you have any other brands on the entertainment side now?
We've recently announced our partnership with Fox for the
Alien
and
Predator
, and
Firefly
licenses. You'll see a variety of announcements throughout the course of the year where we will broaden the portfolio.
The thing that's important to us is to focus on quality over quantity. That's why we've been so focused, especially on the Marvel license, because we weren't doing enough with it. We wanted to make sure we had a good strong game put together, which we have now with
Legendary
. We wanted to build the best pure trading cards in the industry. I think everybody's seen that with
Fleer Retro
and
Marvel Premiere
.
Marvel Beginnings
was the most in-depth set that has ever been done, with 540 characters over the course of three series.
It's really about getting it right and doing the best products we can rather than adding licenses for the sake of adding licenses.
What's your view of the overall markets for entertainment trading cards and entertainment-based games?
On the trading card side, it's still a tough market. A lot of the shops really got burnt in the 90s with bad product, mass produced product, and those guys still remember that. It's hard to win their trust back and show them that we make a quality product. We're not going to mass produce it. I think we've done a pretty good job over the last couple of years, but it's a hard row to hoe. It's rebuilding that relationship with the comic book store owner, the trading card store owner, and the end consumer.
We're doing some very innovative things: we've redefined the price points and what people know as a sketch card, and I think we're trailblazing some things that have never been done on the entertainment trading card side.
On the gaming side, we're pretty excited about the success we've had with
Marvel Legendary
. We've got the
Alien Legendary Encounters
that will release in August, which we're really excited about, and we're looking to launch a couple more games for the fourth quarter of this year and the first quarter of next year. We'll see a lot of growth on the gaming side. We really like that market and we're known for the gaming side of the business and we're looking to push back pretty hard on that side of the business.
What are some examples of things that Upper Deck is doing with entertainment trading cards that haven't been done before?
With some of the technologies we have (we've been doing shadow box cards), we've gone back to some of the old technology with holograms, and some of the die cuts that people haven't been doing for a while. The Manufactured Patch cards that we have been doing are very unique and different. The sketch cards, we've started doing two-, three-, and four-panel sketch cards. We have the
Marvel Premier
product that guarantees you a Marvel sketch card in every pack, not having to go through a box to find one.
A lot of those technologies and processes that we're applying to the entertainment side have been around on the sports side for years, but they've never been moved over. We've moved a lot of those technologies over and we're having a lot of success with them.
For our readers who may not be familiar with the memorabilia business, you're referring to authenticated, autographed memorabilia of various kinds, correct?
It's really centered around our five spokesmen: Michael Jordan, Tiger Woods, Wayne Gretzky, LeBron James and Rory McIlroy. We'll do one-off signings here and there. Over the past few years we've done Peyton Manning and Mike Tyson. We're hoping to expand that more into the entertainment side as we diversify the portfolio.
What licenses do you have on the sports side in addition to hockey?
We're licensed with the NHL and NHL PA. We're also the exclusive home for collegiate sports [NCAA], so we do all sports under collegiate brands (football, baseball, basketball, hockey, lacrosse), so that's been an important piece of our business. We still have a license with the Major League Baseball Players Association, so we have a baseball set that will come out in the fall.
Those are the main ones, but we have some other ones (we have exclusive licenses with Hockey Canada and USA Football), so we have a variety of different sports products that we still do.
How do you see the games side of the market? Do you feel the deck building/card game category is receptive to new product or perhaps already crowded?
I categorize it as the hobby game market. There are a lot of different genres out there. Obviously
Legendary
is a deck-building game, but the hobby gaming market in general is the one we're interested in. We'll look to branch out into different types of games outside of deck-building.
There are a lot of games out there, but the real good quality games tend to stand out. We took a long time to develop
Legendary,
and
Legendary Encounters
, the new Alien game, has been in development for quite a while. I think there's a lot growth aspects and opportunities out there for just good games. Good games will always stand out among the rest.
Your comic book licenses also have movie and television tie-ins. What are you doing to connect those two worlds?
If you look at our movie products, from Avengers to Cap and Thor, and Guardians, when we come out with
Guardians of the Galaxy
trading card product, you'll see a connection where we include some of the publishing art and things of that nature. On the gaming side, so far we've chosen to go with all original art. We take inspiration from the movies or TV shows, and we try to incorporate that into the original art which has more of a publishing feel. It's kind of a blend of both worlds.
What are the important connections to Upper Deck's past that we should be noting on its 25th anniversary?
What's interesting for me, people always look back on the history of Upper Deck and they think of '89 Baseball or '90-91 Hockey. They forget about the early entertainment products. They forget about the
Looney Tunes
, the
Space Jam
. Upper Deck has been an entertainment company almost from day one. It's interesting to look back and '91 was the Valiant trading cards. We have a very in-depth history in the entertainment side of the business as well. It was very important to Richard, and it's very important to me that we harken back to that lineage that we have.
What are you most excited about for Upper Deck this year?
The most exciting pieces are Marvel products that we have coming out this fall on the trading card side with
Premier
. I believe you've heard the rumor of the re-launch of
Marvel Masterpieces
, which is a pretty exciting piece for us. We've signed a deal with Joe Jusko to do all the original art for the set, which again harkens back to the early days of Marvel trading cards when he did the original
Marvel Masterpieces
back in '92, which is pretty exciting to us.
For me the only way to bring back that brand was to do it with Joe (Jusko). That first set... I still have my original set. That first set's artwork is incredible. I remember chasing that set. I remember the prices skyrocketing on it and bumming me out because I couldn't afford more of it. I wanted to return it to its roots. So we're really excited and hope that the collectors who felt like I did when I collected get back into it and try it out.
Are there two Marvel card licensees?
There are. Us and Rittenhouse.
Is there any line between them or do you both have access to all the characters?
There's no line between us. We've tried to let the fans of Rittenhouse stay with Rittenhouse. They have a pretty good formula that they stick to and we tried some things that are way outside the box at some price points that are very different. We've tried to put our own place in the market with what Upper Deck's known for, which is high end, high quality product.
What about games?
On the gaming side, I'm really looking forward to the
Alien
deck-building game, the
Legendary Encounters
game (see "
'Alien Deck-Building Game'
"). I think
Alien-Predator
for us were huge opportunities to build games for fans that haven't had a chance to play good quality games around those licenses. We've had tons of excitement, tons of people asking us when it's going to come out, a lot of anticipation for that game.