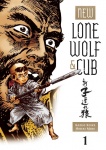 Dark Horse has announced a launch date for the new Lone Wolf & Cub series by Kazuo Koike and Hideki Mori (see "
Dark Horse Plans 'New Lone Wolf & Cub'
").
New Lone Wolf & Cub
Vol. 1 will street June 4,at 218 pages and a $13.99 MSRP.
The new series is planned to run for 11 volumes.
Dark Horse is also releasing omnibus versions repackaging the original 28-volulme series; the fourth 720-page $19.99 volume will street in April. Over one million copies of the original series have been sold by Dark Horse.