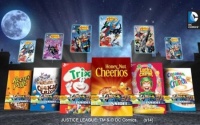 DC Comics has announced a renewal of its comic book promotion with General Mills Cereals, packaging five new
Justice League
comics inside "specially marked boxes," available now through April.
DC partnered with General Mills for a similar promotion in 2011 (see "
'Justice League' Comics in General Mills Cereals
"). The specialty issues were created exclusively for General Mills, and four can be found in grocery retailers nationwide, with a special fifth issue only available in select boxes of Cheerios at Target.
Each specially marked box of Big G cereal (Cinnamon Toast Crunch, Lucky Charms, Honey Nut Cheerios, Trix, Cookie Crisp, Reese's Puffs) will also feature DC Comics Super Hero costume piece cutouts on the back. Each comic will actually be a Part One of a two-part series, with readers being directed to the Big G Cereal Heroes website to read Part Two.