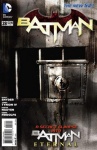 Sales of comics and graphic novels to comic stores declined for a second consecutive month in February, according to information released by Diamond Comic Distributors. The decline was significant, at 6.71% overall, combining a 10.39% decline in comic sales with a 2.83% increase in graphic novel sales.
The relative strengths of the formats in February were flipped from January, when comics were near flat at a .42% decline and graphic novels tanked, down 14.28% (see "
Comic Sales Flat, GNs Down in January
").
Despite the differences in the formats, the overall trend was similar in the first two months of 2014, with a 5.09% decline in January and the 6.71% decline in February. Year to date, comics are down 5.53%, graphic novels are down 6.69%, and the overall market is down 5.89% vs. 2013.
Weather has had a big impact in some parts of the country this winter, with February a particularly difficult month in which to get out shopping. That may have slowed sell-through, which in turn slows reorder activity to Diamond, bringing down sales.
But a two month decline is certainly not good, especially when neither month suffered from a five-week to four-week comparison.
The market shares of the top companies are similar to recent trends, with Marvel at 34.1%, and DC at 28.73%. Dark Horse had a strong month at #4, topping IDW, which usually occupies that position.
There's a paucity of new hits this month, as there was last month when only one title,
Batman
, topped 100,000 copies (see "
Only One Comic Over 100K
").
The Top Ten Comics for February 2014
Batman #28 (DC)
Forever Evil #5 (DC)
Wolverine #1 (Marvel)
Superior Spider-Man #27.NOW (Marvel)
Justice League #28 (DC)
Superior Spider-Man #28 (Marvel)
Fantastic Four #1 (Marvel)
The Walking Dead #121 (Image)
The Walking Dead #122 (Image)
All New X-Men #23 (Marvel)
And in graphic novels, it's a similar situation, with the latest
Locke & Key
volume occupying the top spot. As was the case in the book channel (although not to as great a degree, see "
February BookScan—Top 20 Graphic Novels
"), the Big Two didn't have much in the graphic novel format in February, with only three titles between the two of them in the Top 10.
The Top Ten Graphic Novels for February 2014
Locke & Key Volume 6: Alpha & Omega HC (IDW)
Fatale Vol 4: Pray for Rain TP (Image)
Adventure Time Vol. 4 TP (BOOM!)
Invincible Volume 19: The War at Home TP (Image)
Saga Vol. 1 TP (Image)
Star-Lord: Annihilation Conquest (Marvel)
Infinity HC (Marvel)
My Little Pony Tales Vol. 2 TP (IDW)
Revival Volume 3: A Faraway Place TP (Image)
The Flash Vol. 2: Rogues Revolution TP (N52) (DC)
'