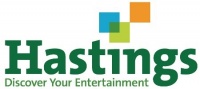 The saying in the mergers and acquisitions world is "CFO, first to go," a reflection of the fact that new ownership usually wants their own person in the most important financial position in the company being acquired. That's the case for Hastings, which revealed in a filing that its CFO would resign after the sale of the company to WizKids parent NECA is complete (see "
NECA to Acquire Retailer Hastings
"). But also in the filing in which the CFO's departure was revealed (as reported by
Home Media
) was the news that Hastings CEO John Marmaduke, the son of the founder, will also depart on completion of the sale.
The Hastings CEO and CFO aren't leaving empty-handed though; Marmaduke will get a $1.5 million severance, and CFO Dan Crow will receive $750,000 (plus the redemption of their stock, as is the case for all shareholders).
Hastings improved its results in the holiday quarter, a good ending to a tough year (see "
Hastings Improved Holidays
").