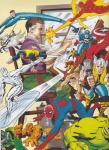 The heirs of artist Jack Kirby have appealed their case to the U.S. Supreme Court, arguing that the 2nd Circuit Court of Appeals, which ruled against them in August (see "
Appeals Court Rules Against Kirby Heirs
'), "unconstitutionally appropriated Kirby's valuable copyrights and gave them outright to Marvel, effecting a transfer of wealth on a massive scale," according to
Law 360
via Robot 6.
The full Second Circuit Court upheld a decision by Judge Colleen McMahon that the termination notices sent out by the Kirby heirs in 2010 were not valid, and that Kirby's work for Marvel was work for hire.
The appeal argues that the way the appeals court applied the "instance and expense test," which looks at how much influence the company had in the creation of the work, was overbroad, suggesting that it was important that the high court rule because so many copyright cases pass through the Second Circuit.
The Kirby heirs are represented by attorney Marc Toberoff, who also represents the Siegel and Schuster heirs in their dispute with DC over the rights to Superman.