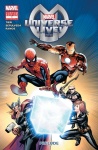 Feld Entertainment, producer of this summer's
Marvel Universe LIVE!
stadium tour, announced the release of an exclusive prequel comic book created by Marvel to give audiences insight into the story of the arena show.
The 20-page comic will be written by Frank Tieri (
Iron Man, Wolverine
) with illustrations by Miguel Sepulveda (
Hulk, The Thanos Imperative
), and color art by Jay David Ramos (
Uncanny X-Force, Captain America
). The complimentary comic will be available for a limited time, running April 16 – June 1, to those who pre-order tickets (limit one per transaction order).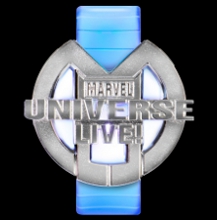 The show brings together more than 25 Marvel characters in a battle to control the Cosmic Cube, the source of ultimate power in the Marvel Universe. The live show also introduces a new item in the Marvel Universe--the Lectro Link--a wearable tech invention created by Tony Stark and Peter Parker to provide remote power for the Ironman suit. The LED light-up, wearable wristband is available for preorder/show pick-up on the website, and costs $25.00.
For more information on the show, see "
Marvel Live! Gets Its Women
").