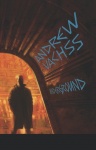 Dark Horse Comics has announced an adaptation of an unpublished Andrew Vachss' screenplay,
Undergound
, to release October 29th.
Vachss (
Batman: The Ultimate Evil, Hard Looks
) is a lawyer, crime fiction author, and child protection consultant, and recently penned a book on bullying, Heart Transplant (see "
Dark Horse Takes On Bullying
"). The
Underground
graphic novel adaptation is penned by Chet Wiliamson and Mike Richardson, with art by Dominic Reardon.
Dark Horse touts the book as "a new genre: the graphic novel presented as a visual movie." The speculative fiction story looks at what happens when all sources of unbiased news are removed, in a society where The Rulers have forced people who fled to the safety of the Underground to trade freedom for security. But a new breed of journalists, called "The Book Boys" risks it all to graffiti the truth on the walls of Underground. The hardcover OGN will have an MSRP of $29.99.
Vachss and Dark Horse released a four-issue, bi-monthly anthology back in the early 1990s, also called
Underground
. The mix of illustrated fiction and comics, which focused on a similar underground world populated by the remnants of humanity, included other writers' work as well. A Dark Horse spokesperson told ICv2 that the new Underground story is only "loosely" associated with that material, and "is not a collection or continuation... This is all new material/story."