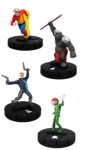 WizKids will release
DC HeroClix: The Flash
beginning on October 15, with the first of three SKUs, the 24 Ct. Gravity Feed. The Booster Packs and Fast Force pack will release November 5, along with the Release Day Organized Play Kit.
The single-figure foil packs retail for $2.99. The 10 figures have flat rarity and will include Max Mercury, Golden Glider, Gorilla City Soldiers, and Central City Police.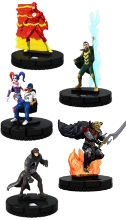 The five-figure Booster Packs retail for $12.99 and will contain 68 figures from all eras of the Flash's history, including the Harley Quinn
HeroClix
World Champion Piece, and the 2013 DC Fan Vote Winner, Etrigan the Demon. Sub-themes include the Rogues, the Flash's allies, and the Authority among others. The rarity breakdown is 17 Common figures (plus one Prime figure), 16 Uncommon figures (plus one Prime), 16 Rare figures (plus one Prime figure), 12 Super Rare figures (plus one Prime), and 3 Thematic Chase Figures.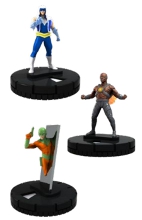 The
DC HeroClix: The Flash "The Rogues" Fast Forces Pack
will include 6 figures from the Flash's most persistent and famous foes (Captains Cold, Boomerang, Mirror Master, Weather Wizard, Heat Wave and the Pied Piper), as well as two exclusive maps. MSRP is $16.99.
The Release Day Organized Play Kit will include 3 limited edition 3D objects (three copies of one object), five 2-sides maps, and an instruction sheet. Stores are limited in the number of OP Kits they may order from their distributor based on cumulative cases of product ordered, with no more than 3 OP Kits per retail store.
Though nothing has been revealed about the premiere of the TV pilot, and it wasn't announced last week as part of the CW's summer schedule, this HeroClix release is probably well timed for the pilot episode of
The Flash
TV show (see "
Full 'Flash' Costume Revealed
").