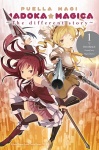 Puella Magi Madoka Magica: The Different Story Vol. 1 TP
Publisher: Yen Press
Release Date: March 25, 2014
Price: $12.99
Creator(s): Magica Quartet (writer), Hanokage (artist)
Format: 160 pgs., Black & White, Trade Paperback
ISBN: 978-0-3163-7051-6
Age Range: 13+
ICv2 Rating: 3 out of 5 stars
It's hard to believe that the
Madoka Magica
franchise is already over three years old but it is and there is still much for fans to learn about these characters that they've come to know and love. In this spinoff series, the stars of the first volume are the tragic Kyoko and Mami. Over the course of 160 pages, this volume will show you what they were like when they were just rookies and still had a hint of idealism in them and what led to their falling out with each other.
It should be noted right away that this volume is not a good introduction to these characters. This is a series for established fans who love these characters and want to know more about them than what they learned in the original TV series. If you are an established fan however, you're going to find the information and story handed out within these pages an absolute treat.
I have always felt that Mami and Kyoko were two of the best characters within the
Madoka Magica
world and so seeing their history and their time together as teammates and friends was a real treat for me and anyone who feels similarly is going to be unable to put this book down once they pick it up. This is a real page turner in every sense of the phrase.
The artwork is also familiar and fun. While I wish that action sequences weren't quite so frantic and given just a little more detail, that feels like a small complaint in comparison to what we get in exchange.
If you've ever wondered about the tragic pasts of these characters, you owe it to yourself to pick up this book and read up. This is an easy purchase for fans of the franchise and one that you won't regret.
--
L.B. Bryant