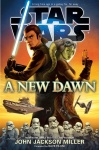 Lucasfilm President Kathleen Kennedy has formally announced the formation of the
Star Wars
Story Group "to oversee and coordinate all
Star Wars
creative development including licensed books, comics, and games." This group (originally leaked in January, see "
One 'Star Wars' Canon
") decides what is "canon" and what is not, and will make sure that future licensed
Star Wars
narratives fit within a general continuity. At this point the
Star Wars
"canon" includes the six original
Star Wars
movies, the
Star Wars: The Clone Wars
animated series, the upcoming
Star Wars: Rebels
cartoon series, and a new series of novels to be published by Del Rey that will be the first ever canonical licensed
Star Wars
books.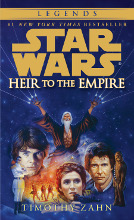 In a statement on the
Star Wars Website
, Lucasfilm deals explicitly with the vast amount of narratives that have been added (via the hundreds and hundreds of licensed Star Wars novels, games, and comic books) to the six original
Star Wars
movies, which basically only cover the lifespan of Annakin Skywalker. This so-called expanded Star Wars universe, which both precedes and follows the events of the movies by hundreds of years, will not be consider "canon," though contemporary creators like the producers of
Star Wars: Rebels
can use any of the elements from the
Expanded Universe
that they want, and new printings of the pre-2014
Star Wars
Expanded Universe
books, comics, and gains will carry a "Star Wars Legends" logo to indicate that they are not canon.
Dismissing the
Expanded Universe
as non-canonical allows the filmmakers of
Episode VII
, which takes place after
Return of the Jedi
from having to tell the same story as the post-
Return of the Jedi Expanded Universe
tales. J.J. Abrams and the writers of
Star Wars: Episode VII
are not bound by anything from the
EU
, but elements of the
EU
including The Inquisitor, the Imperial Security Bureau, and Sienar Fleet Systems have been adopted by the producers and writers of
Star Wars: Rebels
(see "
New 'Star Wars' Movies Will Stick to the Canon
").
The new movies won't be the only
Star Wars
items that will stick to the canon. Disney and Del Rey have announced four new
Star Wars
prose novels, which for the first time in the long history of Del Rey's
Star Wars
novels, will be considered "canon." Del Rey VP Scott Shannon told
The Hollywood Reporter
that he was "excited to finally be able to call our upcoming novels true canon--a single,
cohesive
Star Wars
storyline."
The first of the new Del Rey novels is
Star Wars: A New Dawn
, which John Jackson Miller is writing with input from
Star Wars: Rebels
producers Simon Kinberg, Dave Filoni, and Greg Weisman. It will be released on September 2nd, followed by
Star Wars: Tarkin
by James Luceno in November,
Star Wars: Heir
to the Jedi
by Kevin Hearne in January of 2015, and Paul Kemp's
Star Wars: Lords of the Sith
in March of next year.