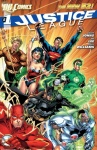 Warner Bros. President of Worldwide Production has officially confirmed that Warner Bros. will make its long-rumored
Justice League
movie, according to the
Wall Street Journal
. The film will be directed by Zack Snyder, who also directed
Man of Steel
and will direct
Batman vs. Superman
.
The core cast will also remain intact, with Henry Cavill, who's been Superman since
Man of Steel
, and Ben Affleck and Gal Gadot (see "
Warner Bros.Gives New Wonder Woman 3-Picture Deal
"), who are being introduced as Batman and Wonder Woman, respectively, in
Batman vs. Superman
, appearing as members of Justice League.
Other characters have not been announced, although Cyborg has been cast for
Batman vs. Superman
(see "
Ray Fisher to Play Cyborg in 'Batman vs. Superman'
"), which would leave Aquaman, Flash, and Green Lantern to be cast if the "New 52" roster is used.
Batman vs. Superman
has been delayed to May 6, 2016 (see "
Ouch! 'Batman vs. Superman' Movie Bumped to 2016
"), which suggests 2018 or later for
Justice League
. No script has been approved for the film.
Warners' president of worldwide marketing Sue Kroll re-affiirmed the studio's interest in making a Wonder Woman movie. "With the right script, that could be made," she said. "The world is ready for her."