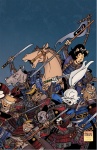 Dark Horse Comics is celebrating the 30th Anniversary of Stan Sakai's
Usagi Yojimbo
with a new limited series premiering in August. In October it will begin releasing a new series of deluxe compilations of the rabbit ronin's previous adventures:
The Usagi Yojimbo Saga
.
Premiering August 6,
Usagi Yojimbo: Senso
will be a six-issue mini-series set 20 years in Usagi's future. There Miyamoto Usagi is a general for Lord Noriyuki, battling Lord Hikiji. In the middle of an epic battle, a rocket ship crashes, and the story takes a sci-fi twist.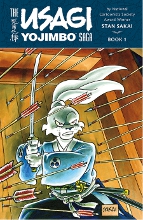 Beginning October 15th, Dark Horse will release the first volume in the deluxe
The Usagi Yojimbo Saga
in both limited hardcover and softcover omnibus editions.
The Usagi Yojimbo Saga Volume 1
collects
Usagi Yojimbo Vol. 2 #1–#16
and
Vol. 3 #1–#6
, and will include over six hundred pages of samurai action.
Dark Horse will also be releasing a benefit book,
The Sakai Project: Artists Celebrate Thirty Years of 'Usagi Yojimbo,'
on July 23rd; with money going to help Sakai and his wife Sharon with her medical expenses (see "
Comic Creator Troubles, Relief
").