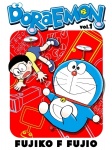 One of the most popular anime and manga properties in Japan is finally making it to the U.S.; Disney has acquired U.S. English language rights to the iconic anime
Doraemon
, which has run for over 2000 episodes in Japan. Disney will air 26 episodes stripped weekdays on Disney XD, beginning this summer, according to
Variety
.
Disney plans to target the series to elementary school age children, which requires changes for U.S. audiences. As is frequently the case with anime and manga (and animation and comics produced in other countries),
Doraemon
contains content that American audiences don't deem suitable for children. Accordingly, the English version will be produced "...to adhere to U.S. broadcast requirements on violence, discrimination and depiction of sexual content," according to the report. Other anime targeted at children have also been bowdlerized for U.S. children's television, with
Dragon Ball Z
being the prime example.
Character and gadget names and storylines are being changed for U.S. audiences, according to Nikkei via
Anime News Network
, in line with changes that are being made to the manga, which VIZ's parent company Skogakukan began releasing last November for the Amazon Kindle platform. VIZ Media confirmed it has no plans to release print publications at this time.
The
Doraemon
TV series, films and manga have been popular in Asian countries for 40 years, but an English adaptation of the TV show has never made it to air. (Turner Broadcasting bought the rights in the mid-1980s, but canceled the series without explanation before any actual broadcast.)
The story of a dumpy robotic cat named Doraemon, who is sent back from the 22nd century by his owner to aid his hapless pre-teen grandfather Nobita and improve his future family's circumstances, was first released in manga form in 1969. The first anime was produced in 1973 by Nippon Television, but was unpopular. A new adaptation was created in 1970 by Shin-ei Animation, and the series was so popular it continued for 1,787 episodes and ran until March 2005. A new series was created that same year, but with updated character designs and new voice actors.
TV Asahi acquired the rights to Doraemon from Shin-ei Animation in 2008 (see "
TV Asahi Buys Anime Studio
").
The
Doraemon
movies, created by Toho, began in 1980, and released on a nearly annual basis. With the release of the most recent film in 2013, the
Doraemon
film franchise has sold more than 100 million in tickets, more than the 50 year
Godzilla
series that is Toho's flagship property, according to the
Wall Street Journal
.
Creator Fujiko Fujio (which is actually a pen name for a duo of creators: Hiroshi Fujimoto and Motoo Abiko) wrote and illustrated 1,344 stories of the manga, which were published in 45 volumes. The manga has sold over 100 million copies in Japan.