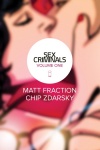 These are estimates of the sales on graphic novels by Diamond U.S. to comic specialty stores during April 2014.

For an overview and analysis of comic sales in April, see "'ASM' #1 Generated Over $3 Million."

For an analysis of the dollar trends in April, see "Marvel Surged in April."

For our estimates of actual sales by Diamond U.S. from comic specialty stores on comic books shipped during April, see "Top 300 Comics Actual--April 2014."


Top 300 GNs – April 2014

Rank

Index

Title

Price

Pub

Est.Qty

1

9.28

SEX CRIMINALS TP VOL 01 (MR)

$9.99

IMA

10,116

2

9.17

SAGA TP VOL 03 (MR)

$14.99

IMA

9,997

3

7.52

EAST OF WEST TP VOL 02 WE ARE ALL ONE

$14.99

IMA

8,196

4

6.59

SAGA TP VOL 01 (MR)

$9.99

IMA

7,178

5

6.20

AMAZING SPIDER-MAN FAMILY BUSINESS OGN HC

$24.99

MAR

6,762

6

5.37

GUARDIANS OF GALAXY TP VOL 01 COSMIC AVENGERS

$19.99

MAR

5,853

7

5.11

JOKER DEATH OF THE FAMILY TP (N52)

$24.99

DC

5,573

8

5.09

SAGA TP VOL 02 (MR)

$14.99

IMA

5,552

9

4.93

PRETTY DEADLY TP VOL 01 (MR)

$9.99

IMA

5,370

10

4.57

WALKING DEAD TP VOL 01 DAYS GONE BYE

$14.99

IMA

4,983

11

4.39

GENESIS GN

$6.99

IMA

4,789

12

3.94

JUSTICE LEAGUE TP VOL 03 THRONE OF ATLANTIS (N52)

$16.99

DC

4,294

13

3.66

SUPERIOR SPIDER-MAN TP VOL 05 SUPERIOR VENOM

$17.99

MAR

3,985

14

3.56

WALKING DEAD TP VOL 20 ALL OUT WAR PT 1 (MR)

$14.99

IMA

3,875

15

3.33

JUSTICE LEAGUE HC VOL 04 THE GRID (N52)

$24.99

DC

3,630

16

3.25

SUPERMAN RED SON TP

$17.99

DC

3,540

17

3.21

BATMAN SUPERMAN HC VOL 01 CROSS WORLD (N52)

$22.99

DC

3,502

18

3.18

STAR WARS ONGOING TP VOL 02 FROM RUINS OF ALDERAAN

$19.99

DAR

3,466

19

2.85

STAR LORD TEARS FOR HEAVEN TP

$7.99

MAR

3,108

20

2.74

BATMAN 66 HC VOL 01

$19.99

DC

2,982

21

2.71

HINTERKIND TP VOL 01 (MR)

$9.99

DC

2,949

22

2.67

WALKING DEAD TP VOL 02 MILES BEHIND US (NEW PTG)

$14.99

IMA

2,907

23

2.65

100 BULLETS BROTHER LONO TP (MR)

$16.99

DC

2,888

24

2.59

NARUTO GN VOL 65

$9.99

VIZ

2,825

25

2.53

GREEN LANTERN TP VOL 03 THE END (N52)

$19.99

DC

2,755

26

2.29

DEADPOOL BY DANIEL WAY COMPLETE COLL TP VOL 03

$34.99

MAR

2,493

27

2.28

BPRD HELL ON EARTH TP VOL 08

$19.99

DAR

2,490

28

2.23

WALKING DEAD TP VOL 19 MARCH TO WAR

$14.99

IMA

2,430

29

2.22

SUPERMAN BATMAN TP VOL 01

$19.99

DC

2,423

30

2.18

SECRET TP VOL 01 NEVER GET CAUGHT

$16.99

IMA

2,373

31

2.16

ALL NEW X-MEN PREM HC VOL 04 ALL DIFFERENT

$24.99

MAR

2,358

32

2.14

EARTH 2 TP VOL 02 THE TOWER OF FATE (N52)

$16.99

DC

2,336

33

2.14

X-MEN TP VOL 02 MUERTAS

$17.99

MAR

2,336

34

2.13

BATMAN TP VOL 01 THE COURT OF OWLS (N52)

$16.99

DC

2,320

35

2.11

SUICIDE SQUAD TP VOL 04 DISCIPLINE AND PUNISH (N52)

$14.99

DC

2,299

36

2.08

GREEN LANTERN HC VOL 04 DARK DAYS (N52)

$24.99

DC

2,262

37

2.07

UNCANNY X-MEN OMNIBUS HC VOL 02

$99.99

MAR

2,251

38

2.04

DAREDEVIL BY MARK WAID TP VOL 05

$16.99

MAR

2,229

39

1.99

AVENGERS TP VOL 02 LAST WHITE EVENT

$19.99

MAR

2,169

40

1.96

RAT QUEENS TP VOL 01 SASS & SORCERY (MR)

$9.99

IMA

2,132

41

1.95

EAST OF WEST TP VOL 01 THE PROMISE

$9.99

IMA

2,130

42

1.94

WALKING DEAD TP VOL 03 SAFETY BEHIND BARS

$14.99

IMA

2,110

43

1.93

ATTACK ON TITAN GN VOL 12

$10.99

RAN

2,102

44

1.91

RACHEL RISING TP VOL 04 WINTER GRAVES

$16.99

ABS

2,083

45

1.90

ADVENTURE TIME SUGARY SHORTS TP VOL 01

$19.99

BOO

2,072

46

1.88

BATMAN THE KILLING JOKE SPECIAL ED HC

$17.99

DC

2,052

47

1.79

EARTH 2 HC VOL 03 BATTLE CRY (N52)

$22.99

DC

1,954

48

1.76

SUPERIOR SPIDER-MAN HC VOL 02

$34.99

MAR

1,916

49

1.73

ITTY BITTY HELLBOY TP

$9.99

DAR

1,881

50

1.72

FLEX MENTALLO MAN OF MUSCLE MYSTERY TP (MR)

$14.99

DC

1,875

51

1.72

SAVAGE WOLVERINE TP VOL 01 KILL ISLAND

$19.99

MAR

1,875

52

1.68

FINAL CRISIS TP NEW EDITION

$19.99

DC

1,834

53

1.67

ASTRO CITY SHINING STARS TP

$16.99

DC

1,822

54

1.65

BATMAN TP VOL 02 THE CITY OF OWLS (N52)

$16.99

DC

1,798

55

1.64

BLEACH GN VOL 60

$9.99

VIZ

1,783

56

1.63

CAPTAIN AMERICA WINTER SOLDIER ULTIMATE COLLECTION TP

$24.99

MAR

1,773

57

1.62

THREE TP (MR)

$14.99

IMA

1,764

58

1.61

LONE WOLF & CUB OMNIBUS TP VOL 04

$19.99

DAR

1,752

59

1.59

BATMAN BEYOND BATGIRL BEYOND TP

$14.99

DC

1,734

60

1.59

WALKING DEAD TP VOL 04 HEARTS DESIRE

$14.99

IMA

1,734

61

1.57

WOLVERINE AND X-MEN BY JASON AARON TP VOL 08

$14.99

MAR

1,709

62

1.55

WALKING DEAD TP VOL 18 WHAT COMES AFTER

$14.99

IMA

1,694

63

1.51

MARVEL KNIGHTS SPIDER-MAN TP FIGHT NIGHT

$16.99

MAR

1,641

64

1.47

ASTRO CITY THROUGH OPEN DOORS HC

$24.99

DC

1,603

65

1.46

BATMAN HC VOL 03 DEATH OF THE FAMILY (N52)

$24.99

DC

1,587

66

1.43

IRON MAN TP VOL 02 SECRET ORIGIN OF TONY STARK BOOK 1

$19.99

MAR

1,556

67

1.42

LOCKE & KEY TP VOL 01 WELCOME TO LOVECRAFT

$19.99

IDW

1,550

68

1.42

WALKING DEAD TP VOL 17 SOMETHING TO FEAR (MR)

$14.99

IMA

1,548

69

1.41

BATMAN HUSH COMPLETE TP

$24.99

DC

1,537

70

1.40

WALKING DEAD COMPENDIUM TP VOL 01 (MR)

$59.99

IMA

1,528

71

1.40

REGULAR SHOW TP VOL 01

$14.99

BOO

1,521

72

1.38

ADVENTURES OF SUPERMAN TP VOL 01

$14.99

DC

1,502

73

1.36

X-MEN DAYS OF FUTURE PAST TP

$19.99

MAR

1,485

74

1.31

DAREDEVIL BY MARK WAID PREM HC VOL 07

$24.99

MAR

1,431

75

1.29

JONAH HEX SHADOWS WEST TP (MR)

$24.99

DC

1,411

76

1.28

WALKING DEAD TP VOL 05 BEST DEFENSE (NEW PTG)

$14.99

IMA

1,396

77

1.26

FEAR AGENT TP VOL 01 RE-IGNITION (2ND ED)(C: 0-1-2)

$9.99

DAR

1,378

78

1.26

ATOMIC ROBO TP VOL 08 SAVAGE SWORD OF DR DINOSAUR

$18.95

RED

1,376

79

1.23

ATTACK ON TITAN GN VOL 01

$10.99

RAN

1,341

80

1.23

SANDMAN TP VOL 01 PRELUDES & NOCTURNES NEW ED (MR)

$19.99

DC

1,337

81

1.21

DAYTRIPPER DELUXE ED HC (MR)

$34.99

DC

1,318

82

1.18

MMW AMAZING SPIDER-MAN HC VOL 16

$69.99

MAR

1,288

83

1.18

CAPTAIN AMERICA PREM HC VOL 03 LOOSE NUKE

$24.99

MAR

1,285

84

1.16

SIDEKICK TP VOL 01 (MR)

$12.99

IMA

1,269

85

1.16

STAR WARS DARK TIMES TP VOL 07 SPARK REMAINS

$19.99

DAR

1,267

86

1.16

BOOKS OF MAGIC TP NEW ED (MR)

$16.99

DC

1,266

87

1.14

CHRONICLES OF CONAN TP VOL 26 LEGION O/T DEAD

$19.99

DAR

1,248

88

1.14

MARVEL ZOMBIES TP COMPLETE COLLECTION VOL 02

$34.99

MAR

1,243

89

1.14

DEADPOOL KILLS MARVEL UNIVERSE TP

$14.99

MAR

1,242

90

1.13

FABLES TP VOL 01 LEGENDS IN EXILE NEW ED (MR)

$12.99

DC

1,234

91

1.13

TRANSFORMERS DARK CYBERTRON TP VOL 01

$19.99

IDW

1,230

92

1.11

JUSTICE LEAGUE TP VOL 01 ORIGIN (N52)

$16.99

DC

1,210

93

1.10

GIRL WITH THE DRAGON TATTOO TP (MR)

$24.99

DC

1,201

94

1.08

DEADPOOL TP VOL 01 DEAD PRESIDENTS NOW

$15.99

MAR

1,181

95

1.08

SECRET AVENGERS TP VOL 03 HOW TO MAIM MOCKINGBIRD

$17.99

MAR

1,177

96

1.07

WATCHMEN TP

$19.99

DC

1,164

97

1.07

WALKING DEAD TP VOL 06 SORROWFUL LIFE (NEW PTG) (SEP088207)

$14.99

IMA

1,163

98

1.07

HAWKEYE TP VOL 01 MY LIFE AS WEAPON NOW

$16.99

MAR

1,162

99

1.06

WALT DISNEY DONALD DUCK HC VOL 05 TRAIL O/T UNICORN

$29.99

FAN

1,154

100

1.06

SONIC THE HEDGEHOG SELECT TP VOL 09 GAMES

$11.99

ARC

1,151

101

1.04

JEFFREY BROWN KIDS ARE WEIRD OBSERVATIONS FROM PARENTHOOD HC

$14.95

CHR

1,133

102

1.04

SERENITY SHEPHERDS TALE HC

$14.99

DAR

1,131

103

1.03

BATMAN DARK KNIGHT RETURNS TP

$19.99

DC

1,127

104

1.02

GANTZ TP VOL 31 (MR)

$13.99

DAR

1,113

105

0.99

WALKING DEAD TP VOL 07 THE CALM BEFORE

$14.99

IMA

1,079

106

0.99

X-MEN LEGACY TP VOL 04 FOR WE ARE MANY

$15.99

MAR

1,079

107

0.99

AMAZING SPIDER-MAN 2 PRELUDE TP

$14.99

MAR

1,076

108

0.97

CHEW TP VOL 01 (MR)

$9.99

IMA

1,060

109

0.96

WALKING DEAD TP VOL 09 HERE WE REMAIN (MR)

$14.99

IMA

1,051

110

0.96

HELLO KITTY GN SURPRISE

$7.99

VIZ

1,049

111

0.96

WALKING DEAD COMPENDIUM TP VOL 02 (MR)

$59.99

IMA

1,044

112

0.96

WALKING DEAD TP VOL 08 MADE TO SUFFER (MR)

$14.99

IMA

1,041

113

0.95

MMW CAPTAIN AMERICA TP VOL 03

$24.99

MAR

1,037

114

0.94

GODZILLA RULERS OF EARTH TP VOL 02

$17.99

IDW

1,027

115

0.94

KING CONAN TP VOL 03 HOUR O/T DRAGON

$19.99

DAR

1,022

116

0.93

STAR WARS OMNIBUS KNIGHTS O/T OLD REPUBLIC TP VOL 03

$24.99

DAR

1,019

117

0.93

BATMAN THE LONG HALLOWEEN TP

$24.99

DC

1,012

118

0.92

POWERPUFF GIRLS TP VOL 01

$19.99

IDW

1,005

119

0.92

X-O MANOWAR TP VOL 05 AT WAR WITH UNITY

$14.99

VAL

1,004

120

0.92

MESMO DELIVERY 2ND EDITION HC

$14.99

DAR

1,000

121

0.91

ROCKETEER SPIRIT PULP FRICTION HC

$21.99

IDW

991

122

0.91

CLONE TP VOL 03

$12.99

IMA

987

123

0.90

BRILLIANT PREM HC VOL 01 (MR)

$24.99

MAR

984

124

0.90

WALKING DEAD HC VOL 01 (MR)

$34.99

IMA

981

125

0.89

JUSTICE LEAGUE OF AMERICA OMNIBUS HC VOL 01

$99.99

DC

975

126

0.89

CIVIL WAR TP

$24.99

MAR

975

127

0.89

ATTACK ON TITAN GN VOL 02

$10.99

RAN

970

128

0.89

WALKING DEAD TP VOL 10 WHAT WE BECOME

$14.99

IMA

968

129

0.88

BART SIMPSON TO THE RESCUE GN

$15.99

BON

964

130

0.88

STAR TREK GOLD KEY ARCHIVES HC VOL 01

$29.99

IDW

963

131

0.88

DEADMAN WONDERLAND GN VOL 02

$9.99

VIZ

959

132

0.88

SUPERIOR SPIDER-MAN TP VOL 01 MY OWN WORST ENEMY NOW

$17.99

MAR

956

133

0.86

BUDDY BUYS A DUMP GN

$19.99

FAN

939

134

0.86

BATMAN YEAR ONE DELUXE SC

$14.99

DC

937

135

0.86

SHONEN JUMP PACK 2014 #2

$19.99

VIZ

933

136

0.85

PREACHER TP BOOK 01 (MR)

$19.99

DC

926

137

0.84

NG EVANGELION SHINJI DETECTIVE DIARY TP VOL 02

$9.99

DAR

921

138

0.84

SPIDER-MAN FIRSTS TP

$34.99

MAR

921

139

0.84

JERICHO TP SEASON 4

$19.99

IDW

914

140

0.84

ELEPHANTMEN 2260 TP BOOK 01 (MR)

$9.99

IMA

911

141

0.83

THOR BY WALTER SIMONSON TP VOL 05

$29.99

MAR

905

142

0.83

WALKING DEAD TP VOL 11 FEAR THE HUNTERS (MR)

$14.99

IMA

902

143

0.82

Y THE LAST MAN TP VOL 01 UNMANNED

$14.99

DC

892

144

0.82

NEMO ROSES OF BERLIN HC (MR)

$14.95

TOP

889

145

0.81

JOKER DEATH OF THE FAMILY HC (N52)

$29.99

DC

887

146

0.81

AVENGERS VS X-MEN TP AVX

$34.99

MAR

881

147

0.81

XXXHOLIC REI GN VOL 01

$10.99

RAN

878

148

0.80

LOVE BUNGLERS HC

$19.99

FAN

877

149

0.80

ADVENTURE TIME TP VOL 01

$14.99

BOO

871

150

0.79

ADVENTURE TIME FIONNA & CAKE TP

$19.99

BOO

864

151

0.79

GREEN ARROW TP VOL 04 THE KILL MACHINE (N52)

$16.99

DC

856

152

0.78

FATIMA BLOOD SPINNERS HC

$19.99

DAR

850

153

0.78

BUZZKILL TP

$14.99

DAR

845

154

0.77

HAWKEYE TP VOL 02 LITTLE HITS NOW

$16.99

MAR

842

155

0.77

INFINITY COMPANION HC

$99.99

MAR

842

156

0.77

THOR EPIC COLLECTION TP KINGDOM LOST

$34.99

MAR

838

157

0.76

DAREDEVIL EPIC COLLECTION TP FALL FROM GRACE

$44.99

MAR

830

158

0.76

MARVEL UNIVERSE HULK AGENTS OF SMASH DIGEST TP

$9.99

MAR

829

159

0.76

GFT TALES FROM OZ TP VOL 01

$12.99

ZEN

826

160

0.75

WALKING DEAD TP VOL 12 LIFE AMONG THEM

$14.99

IMA

814

161

0.75

DEADPOOL KILLS DEADPOOL TP

$14.99

MAR

814

162

0.74

JUSTICE LEAGUE TP VOL 02 THE VILLAINS JOURNEY (N52)

$16.99

DC

812

163

0.74

WONDER WOMAN TP VOL 01 BLOOD (N52)

$14.99

DC

809

164

0.74

WALKING DEAD TP VOL 13 TOO FAR GONE (MR)

$14.99

IMA

807

165

0.74

LOCKE & KEY HC VOL 06 ALPHA & OMEGA

$29.99

IDW

805

166

0.74

HARLEY QUINN WELCOME TO METROPOLIS TP

$19.99

DC

804

167

0.73

NIGHTWING TP VOL 01 TRAPS AND TRAPEZES (N52)

$14.99

DC

800

168

0.73

EC ARCHIVES WEIRD FANTASY HC VOL 01

$49.99

DAR

795

169

0.73

GODZILLA HISTORYS GREATEST MONSTER TP

$29.99

IDW

794

170

0.72

HARLEM HELLFIGHTERS GN

$16.95

RAN

782

171

0.72

BLACKEST NIGHT TP

$19.99

DC

781

172

0.72

MANHATTAN PROJECTS TP VOL 01 SCIENCE BAD

$14.99

IMA

780

173

0.71

SUPERMAN SILVER AGE NEWSPAPER DAILIES HC VOL 02 1961-1963

$49.99

IDW

779

174

0.71

X-FILES SEASON 10 HC VOL 02

$24.99

IDW

774

175

0.71

POKEMON BLACK & WHITE GN VOL 15

$4.99

VIZ

774

176

0.71

DEADMAN TP VOL 05

$16.99

DC

771

177

0.71

WALKING DEAD TP VOL 16 A LARGER WORLD (MR)

$14.99

IMA

769

178

0.70

MARVELS CA WINTER SOLDIER ART OF MOVIE SLIPCASE HC

$49.99

MAR

767

179

0.70

DRAGON BALL FULL COLOR TP VOL 02

$19.99

VIZ

767

180

0.70

V FOR VENDETTA NEW EDITION TP (MR)

$19.99

DC

762

181

0.70

ATTACK ON TITAN GN VOL 03

$10.99

RAN

762

182

0.69

ALICE IN COMICLAND HC

$29.99

IDW

755

183

0.67

MEGATOKYO OMNIBUS TP

$19.99

DAR

731

184

0.67

WALKING DEAD TP VOL 14 NO WAY OUT (MR)

$14.99

IMA

731

185

0.67

INFINITY GAUNTLET TP

$24.99

MAR

731

186

0.67

SUPERIOR SPIDER-MAN TP VOL 02 TROUBLED MIND NOW

$17.99

MAR

730

187

0.67

WALKING DEAD TP VOL 15 WE FIND OURSELVES (MR)

$14.99

IMA

726

188

0.66

CHEW TP VOL 08 FAMILY RECIPES (MR)

$12.99

IMA

714

189

0.65

SAMURAI JACK CLASSICS TP VOL 02

$19.99

IDW

713

190

0.65

PAINKILLER JANE TP PRICE OF FREEDOM (MR)

$19.99

MAR

713

191

0.65

DEADPOOL TP VOL 03 GOOD BAD AND UGLY NOW

$15.99

MAR

712

192

0.65

BATMAN & ROBIN TP VOL 01 BORN TO KILL (N52)

$16.99

DC

706

193

0.65

ROCKY & BULLWINKLE CLASSICS GN VOL 01 STAR BILLING

$17.99

IDW

705

194

0.65

DRAGONS RIDERS OF BERK GN VOL 01

$6.99

TTN

705

195

0.64

MAGI GN VOL 05

$9.99

VIZ

696

196

0.63

FAIRY TAIL GN VOL 37

$10.99

RAN

690

197

0.63

X-MEN AGE OF APOCALYPSE OMNIBUS COMPANION HC

$99.99

MAR

688

198

0.63

TMNT ADVENTURES TP VOL 07

$19.99

IDW

687

199

0.62

REVIVAL TP VOL 01 YOU'RE AMONG FRIENDS

$12.99

IMA

674

200

0.62

LOCKE & KEY TP VOL 03 CROWN OF SHADOWS

$19.99

IDW

671

201

0.61

STAR WARS ONGOING TP VOL 01 SHADOW OF YAVIN

$19.99

DAR

670

202

0.61

JUSTICE LEAGUE TRINITY WAR HC (N52)

$29.99

DC

669

203

0.60

MARCH GN BOOK 01

$14.95

TOP

659

204

0.60

WOLVERINE OLD MAN LOGAN TP

$29.99

MAR

656

205

0.60

HELLBOY FIRST 20 YEARS HC

$19.99

DAR

653

206

0.60

AMERICAN VAMPIRE TP VOL 01 (MR)

$19.99

DC

653

207

0.60

DEADPOOL TP VOL 02 SOUL HUNTER NOW

$15.99

MAR

651

208

0.60

ALABASTER GRIMMER TALES HC

$19.99

DAR

650

209

0.59

SUPERIOR SPIDER-MAN TP VOL 04 NECESSARY EVIL

$17.99

MAR

644

210

0.59

ASTONISHING X-MEN WHEDON CASSADAY ULT COLL TP BOOK 01

$29.99

MAR

643

211

0.59

BRODYS GHOST TP VOL 05

$7.99

DAR

641

212

0.59

MAGIC THE GATHERING TP VOL 04 THEROS

$19.99

IDW

641

213

0.58

KINGDOM COME TP NEW PTG

$19.99

DC

636

214

0.58

GFT QUEST TP

$15.99

ZEN

634

215

0.58

TMNT ONGOING TP VOL 01

$17.99

IDW

632

216

0.58

AVATAR LAST AIRBENDER TP VOL 01 PROMISE PART 1

$10.99

DAR

629

217

0.58

OZ HC WONDERFUL WIZARD OF OZ NEW PTG

$24.99

MAR

628

218

0.58

CERTAIN SCIENTIFIC RAILGUN GN VOL 09

$12.99

ST.

627

219

0.57

NOWHERE MEN TP VOL 01 FATES WORSE THAN DEATH

$9.99

IMA

626

220

0.57

ATOMIC LEGION HC

$29.99

DAR

625

221

0.57

DEADPOOL TP VOL 04 MONKEY BUSINESS

$15.99

MAR

621

222

0.57

SANDMAN TP VOL 02 THE DOLLS HOUSE NEW ED (MR)

$19.99

DC

620

223

0.57

HEDGE KNIGHT JET CITY ED TP VOL 02 SWORN SWORD

$14.95

BRI

617

224

0.56

FABLES TP VOL 02 ANIMAL FARM

$14.99

DC

614

225

0.56

AQUAMAN TP VOL 01 THE TRENCH (N52)

$14.99

DC

613

226

0.56

CHEW TP VOL 02 INTERNATIONAL FLAVOR (MR)

$12.99

IMA

608

227

0.55

ATTACK ON TITAN GN VOL 11

$10.99

RAN

603

228

0.55

AVATAR LAST AIRBENDER TP VOL 06 SEARCH PART 3

$10.99

DAR

602

229

0.55

LAZARUS TP VOL 01 (MR)

$9.99

IMA

601

230

0.55

BATMAN DETECTIVE COMICS TP VOL 01 FACES OF DEATH (N52)

$16.99

DC

600

231

0.55

AVATAR LAST AIRBENDER TP VOL 04 SEARCH PART 1

$10.99

DAR

598

232

0.55

ATTACK ON TITAN GN VOL 04

$10.99

RAN

597

233

0.54

ATTACK ON TITAN GN VOL 10

$10.99

RAN

593

234

0.54

AVATAR LAST AIRBENDER TP VOL 07 RIFT PART 1

$10.99

DAR

589

235

0.54

FLASH TP VOL 01 MOVE FORWARD (N52)

$16.99

DC

584

236

0.54

HARLEY QUINN PRELUDES AND KNOCK KNOCK JOKES TP

$19.99

DC

584

237

0.53

ALICE I/T COUNTRY CLOVER NIGHTMARE GN (MR)

$13.99

ST.

583

238

0.53

MINECRAFT OFFICIAL MOJANG REDSTONE HANDBOOK HC

$7.99

SCH

578

239

0.53

SPIDER-MAN NEWSPAPER STRIPS TP VOL 01

$39.99

MAR

577

240

0.53

CBLDF PRESENTS LIBERTY HC (MR)

$29.99

IMA

576

241

0.53

ARCHIE COMICS SPECTACULAR SPORTS TIME TP

$5.99

ARC

573

242

0.52

AVATAR LAST AIRBENDER TP VOL 05 SEARCH PART 2

$10.99

DAR

572

243

0.52

SUICIDE SQUAD TP VOL 01 KICKED IN THE TEETH (N52)

$14.99

DC

572

244

0.52

SONIC MEGA MAN WORLDS COLLIDE TP VOL 01

$11.99

ARC

571

245

0.52

ART OF MILLARWORLD HC

$39.99

IMA

569

246

0.52

SUPERIOR SPIDER-MAN TP VOL 03 NO ESCAPE

$17.99

MAR

569

247

0.52

VAMPIRELLA ARCHIVES HC VOL 09 (MR)

$49.99

DE

563

248

0.52

GHOSTBUSTERS ONGOING TP VOL 07 HAPPY HORROR DAYS

$17.99

IDW

563

249

0.52

WALKING DEAD HC VOL 02 (MR)

$34.99

IMA

563

250

0.52

ATTACK ON TITAN GN VOL 09

$10.99

RAN

563

251

0.51

IM NOT POPULAR GN VOL 03

$11.99

HAC

560

252

0.51

BEST OF ARCHIE COMICS BETTY & VERONICA TP VOL 01

$9.99

ARC

557

253

0.51

INJUSTICE GODS AMONG US HC VOL 01

$19.99

DC

556

254

0.51

CHEW TP VOL 07 BAD APPLES (MR)

$12.99

IMA

553

255

0.51

DEADPOOL BY DANIEL WAY COMPLETE COLL TP VOL 01

$34.99

MAR

552

256

0.51

DISNEY FAIRIES GN VOL 14 TINKER BELL & BLAZE

$7.99

NBM

551

257

0.50

VENOM BY RICK REMENDER TP VOL 01

$16.99

MAR

550

258

0.50

DEADPOOL TP VOL 03 X MARKS SPOT

$15.99

MAR

549

259

0.50

LOCKE & KEY TP VOL 02 HEAD GAMES

$19.99

IDW

543

260

0.50

STRAY BULLETS UBER ALLES ED TP (MR)

$59.99

IMA

543

261

0.50

HARLEY QUINN NIGHT AND DAY TP

$16.99

DC

541

262

0.50

DAREDEVIL BY MARK WAID TP VOL 01

$15.99

MAR

540

263

0.49

REVIVAL TP VOL 03 A FARAWAY PLACE (MR)

$14.99

IMA

534

264

0.49

DEADPOOL KILLUSTRATED TP

$14.99

MAR

533

265

0.49

JOKER HC

$19.99

DC

532

266

0.49

NIGHTWING TP VOL 02 NIGHT OF THE OWLS (N52)

$14.99

DC

532

267

0.49

SUPERMAN ACTION COMICS TP VOL 01 SUPERMAN MEN OF STEEL (N52)

$16.99

DC

531