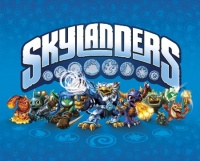 IDW Publishing has announced a partnership with Activision to produce the first-ever
Skylanders
comic book series, written by Ron Marz (
Green Lantern, Witchblade
), launching in July. The series will also join IDW's line of Micro Comic Fun Packs in October.
Lead artists on the series will include Mike Bowden (
World of Warcraft)
and David Baldeon (
X-Men: Legacy
). The first issue will be a prequel to the Skylanders Trap Team storyline, and will give fans a first look at a few new characters coming to the game.
The comic will debut at San Diego Comic-Con.
Skylanders #0
will include a 16-page intro story, as well as character guides and back-up information. The issue will be launched in both print and digital during SDCC weekend.
"To explore the world of Skylands beyond the game is an opportunity we know our fans have long been awaiting, and we couldn't be more excited to see this manifested through a comic series," said Ashley Maidy, Activision vice president of global licensing and partnerships. "The comic-book series will offer fans a glimpse into the backstories of their favorite Skylanders characters, expanding on the universe that they've embraced so enthusiastically in the franchise's short history."
The
Skylanders
property has done extremely well in its short history (the product launched in 2011). The company has boasted sales of more than $2 billion (175 million figures sold) as of February 2014. Sales in 2012 were about $500 million, which means sales roughly tripled over the last year, to $1.5 billion in 2013 (see "
Nintendo Takes on 'Skylanders' and 'Infinity'
").
Individual product sales can give a better idea of the numbers of consumers involved. Videogame research firm NewZoo has recently
reported
sales of the 2013
Skylanders Swap Force
title at about 3.9 million copies, the 2012
Skylanders Giants
game at 4.65 million, and similar numbers for 2011's
Skylanders Spyro's Adventure
. Over half (53%) of those Skylanders sales came from the U.S. "Lifetime game sales to date are around 13.3 million units, which means that the franchise grosses more than half of its revenues from the toys," said CEO of Newzoo, Peter Warman.