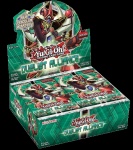 Konami will launch Pendulum Monsters for its
Yu-Gi-Oh! TCG
this summer, with a Super Starter release in July, followed by a booster release in August.
The first booster with the new monster type is
Duelist Alliance Booster
(the new monsters will actually be introduced in the new Super Starter release in July). The half-Monster, half Spell cards are triggered with Pendulum Summons. The booster also introduces a new Monster type: Wyrms, as well a new deck theme based on Dante's Inferno. Several other tournament-level Deck themes will be introduced as well, including Superheavy Samurais, Stellarknights, and Shaddolls.
The 100-card set will contain 48 Commons, 20 Rares, 14 Super Rares, 10 Ultra Rares, and 8 Secret Rares. MSRP is $3.99 a pack.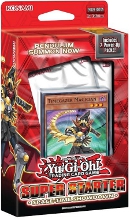 The
Super Starter: Space Time Showdown
deck is a return of the Super Starter format, which is designed to teach the game to new players. It contains a pre-built 40-card deck, as well as two randomized Power-Up packs with random cards to customize the deck. This deck also includes an exclusive look at the new Pendulum Monsters, which blur the line between Monsters and Spells, and the Pendulum Summons game mechanic. Konami teased the new starter deck earlier this year (see "
More 'YGO' 2014 Releases
").
Each
Starter Deck
contains 38 Common and 2 Super Rare cards, 2 Power-Up packs (with 5 cards from a 15-card set), a game mat with new Pendulum Zones, and a beginner's guide. MSRP is $12.99.
There will also be a
Space-Time Showdown Power Box
, which includes everything in the
Starter Deck
as well as an additional Power-Up pack, and a high quality, rubber game mat with new Pendulum Zones. MSRP on the
Power Box
is $19.99.
Between these two releases, on August 1,
Battle Pack 3: Monster League
will debut (see "
New Dynamics in 'YGO: Battle Pack 3: Monster League'
").