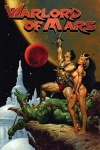 In a happy ending to a long-running dispute, Dynamite Entertainment announced a new comprehensive agreement with Edgar Rice Burroughs, Inc., in the wake of a settlement of the lengthy lawsuit between the two companies (see "
ERB, Inc. Sues Dynamite
"). The settlement will allow Dynamite full access to the original
John Carter: Warlord of Mars
mythos as well as the
Lord of the Jungle
material.
Edgar Rice Burroughs, Inc. is the company founded by the author to protect and maintain his literary creations. ERB, Inc. recently reacquired comic book and comic strip rights to its properties from Marvel Entertainment.
ERB, Inc. sued Dynamite in 2012 alleging trademark infringement. Dynamite argued that the works on which the comics were based had fallen into the public domain, and didn't require licensing, though they seemed to be very carefully avoiding certain key characters, plot elements and title use in their published works, presumably to avoid unexpired copyright or trademark claims.
Now however, after settlement of that suit, an agreement has been reached that allows Dynamite world-wide comic publication rights for the John Carter universe as well as the Tarzan
Lord of the Jungle
material, and ERB's library of archival material.
"It was important to us that we reacquire the comic book and comic strip rights from Marvel Entertainment so we could reintroduce them in the market place," said James Sullos, President of Edgar Rice Burroughs, Inc. "We're excited to see the exploits of Edgar Rice Burroughs' first science fiction adventure hero brought to life in their fullness by the passionate creative talents assembled by the folks at Dynamite."
Dynamite confirmed the new comic book series will be called
John Carter: Warlord of Mars
, and launch in late 2014. Dynamite also has plans to republish other John Carter material, going back as far as the early 1940s comic strips done by Burroughs' son, John Coleman Burroughs. Dynamite's rights include the full John Carter library, including the Marvel material from the 70s.
In a related development, the Edgar Rice Burroughs Digital Comic Strip Service will be debuting new
John Carter: Warlord of Mars
'adventure strip' episodes online in early summer, written by Roy Thomas, with art by Pegaso (Rodolfo Perez Garcia).