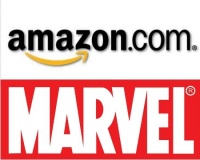 Amazon is apparently no longer targeting graphic novels from Hachette distribution client Marvel as part of its war over terms with Hachette, but has escalated its attack on Hachette imprint Yen Press. In the wake of reports that Amazon had expanded its repertoire of sales-damaging tactics and was now targeting advance sales by removing the option to buy upcoming Hachette releases (such as this one in the
New York Times
), we took another look at Amazon listings for Marvel and Yen to see what had changed since our first report two weeks ago (see "
Marvel, Yen Caught in Amazon-Hachette Crossfire
").
Amazon's relationship with Marvel appears to be back to normal. All of the titles that were listed with long shipping delays two weeks ago now list Amazon's customarily prompt shipping turnarounds. And discounts also appear to now be in a more normal range on Marvel titles. We also looked at a number of titles due for release in the coming months, including several Guardians of the Galaxy volumes, and found that pre-order listings were normal and offering shipment on the release date.
Yen Press, on the other hand, is now the victim of even more aggressive Amazon tactics to suppress its sales. Two upcoming Yen manga launches,
Gou-Dere Sora Nagihara
and
Love at Fourteen
(see "
Yen Press Announces New Manga
")
,
are listed as "currently unavailable" on Amazon, but are being offered on other sites such as Barnes & Noble's. Amazon's backlist availability remains delayed on many Yen volumes. Not all Yen pre-orders are unavailable; Amazon is taking pre-orders for
High School DXD
Vol.1 for release this week.
Marvel's removal from the crossfire could mean that it has worked out a separate agreement with Amazon (its books are sold to Amazon by Hachette's distribution arm), or perhaps that Amazon has realized that attacking Hachette distribution clients has its downsides. Regardless, Amazon shows no signs of letting up the pressure on books actually published by Hachette.