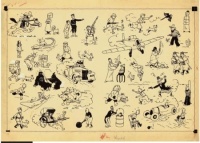 A piece of
Tintin
art sold at more than double the last world record-setting price for comic book art at a Paris Artcurial auction last Saturday, one of two pieces sold for over $1 million that day. The previous world record price for comic art was also set by a TinTin piece, in 2012, (see "
'Tintin' Cover Sold for $1.6 Million
").
The original flyleaves / end pages for the
Adventures of Tintin
albums (1937) done by Herge in India ink, retouched with white gouache, sold for €2,654,400, approximately $3,582,113 US (including fees) to an undisclosed American collector. The art shows Tintin and his dog Milou (Snowy) in thirty-four different scenarios. The 35x53 cm piece was signed by the Belgian artist.
Also of note was the original India ink black and white drawing for the main cover image of
L'Ile Noir
(
The Black Island
) done in 1942. The 51x35 cm drawing sold for €1,011,200, approximately $1,364,614 US.
The record price for a piece of American comic art is $657,250, just set earlier this month (see "
Comic Art Page Sells for $657,250
").