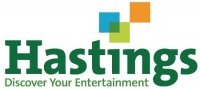 The acquisition of entertainment retailer Hastings by the owner of WizKids parent NECA has been halted by a Temporary Restraining Order issued by U.S. District Judge Mary Lou Robinson in the Northern District of Texas, which contains the Hastings headquarters in Amarillo. The restraining order prohibits closing the deal that was struck in March (see "
NECA to Acquire Retailer Hastings
") until a hearing is held on June 12th at which Hastings will have to show cause why the TRO should not be converted to a preliminary injunction effective until a trial is held on the case.
The suit is one of two filed on behalf of Hastings shareholders. This suit alleges that the price being paid for Hastings, $3 per share, is insufficient (it represented a 57% increase over Hastings' stock price on the day before the deal was announced), and that the Hastings management and directors breached their fiduciary duties in approving the sale.
A management transition had already been planned; Hastings' CEO and CFO are to leave the company on completion of the sale, with a $1.5 million and $750,000 bonus, respectively (see "
Hastings CEO, CFO Out
").