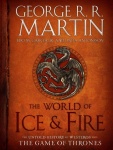 Bantam Books will release
The World of Ice & Fire: The Untold History of Westeros and the Game of Thrones
by George R. R. Martin, Elio Garcia and Linda Antonsson on October 28th.
The 336-page hardcover is a comprehensive history of Martin's Seven Kingdoms. The author has teamed with Elio M. García, Jr., and Linda Antonsson, founders of the Westeros.org fan site, to present a scholarly account of all the battles, rivalries, and rebellions that lead to the events of
A Song of Ice and Fire
and the
Game of Thrones
TV show.
This book contains all-new historical material, created by Martin exclusively for this volume (with over 50% penned by Martin himself); more than 170 original pieces of full-color artwork and maps, including full family trees of Houses Stark, Lannister, and Targaryen; and an in-depth exploration of the culture and history of Westeros. MSRP is $50.00.