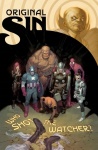 After a strong rebound in April, year-over-year sales of periodical comics dipped 2.01% in May of 2014 when compared with May of 2013 according to statistics released today by Diamond Comic Distributors. Graphic novels were down even more, dropping 9.47% and yielding a year-over-year combined decline of 4.52% for the month. This decline is mitigated by the fact that May of 2013 had five Wednesdays versus four in May of 2014, but that cannot explain away the fact that sales of periodical comics for the first five months of the year remain 1.13% below sales during the same period in 2013, while graphic novels have posted a 1.96% gain. The comparison with a five-ship week May of 2013 means that a definite determination on whether the comics market has rebounded from its first quarter doldrums will have to wait for at least another month.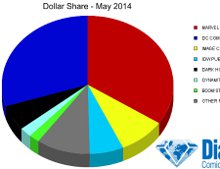 After gaining a huge edge in market share in April thanks to the launch of
Amazing Spider-Man
#1, which sold over 500,000 copies (see "
Over 500,000 Copies of 'ASM' #1
," and "
Marvel Surges in April
"), Marvel's dollar share dropped from its 2014 high of 39.27% to a much more typical 34.31%. DC Comics rebounded from a year-low 23.65% to 30.04%, while Image Comics was a solid third with 8.86%, followed by IDW, which nosed out Dark Horse and took the #4 spot for the first time in four months. Dynamite Entertainment was a clear #6, followed by Boom! Studios, Avatar, and Random House (largely on the strength of
Attack on Titan
).
Marvel took the top three spots on the periodical comics chart led by the debut of the "event" book
Original Sin
#1 and two sequels to April's bestselling
Amazing Spider-Man
relaunch. DC Comics placed five books in the top ten led by
Batman
#31 at #4. DC's big event book
New 52 Future's End
#1 debuted in ninth place, eight spots behind
Original Sin
. Image's
The Walking Dead
#127 shambled its way back into the top ten at #8.
Top 10 Comic Books for May 2014
Original Sin #1
Amazing Spider-Man #2
Amazing Spider-Man #1.1
Batman #31
Forever Evil #7
Original Sin #2
Justice League #30
The Walking Dead #127
The New 52: Future's End #1
Batman Eternal #5
May's year-over-year decline in graphic novel sales can be explained in part by a strong slate of graphic novel releases in May of 2013 when the top 11 graphic novels all sold more than 4,000 copies, demonstrating a breadth of appeal that was evidently hard to match (ICv2's estimates of the graphic novel sales for May of 2014 won't be available until Monday). It should be noted that after placing just one title in the top 10 in April of 2014, Image's potent
The Walking Dead
franchise was shut out of the top 10 in May.
The top graphic novel was the hardcover edition of the fourth
New 52 Batman
collection from writer Scott Snyder, while the paperback edition of the third Snyder
Batman
collection was at #2 followed by Image's
Black Science
#1 and Marvel's
X-Men: No More Humans
. Image placed four books in the top ten including
Manifest Destiny
Vol. 1,
Manhattan Projects
Vol.4, and the previously-released (and tremendous backlist seller)
Saga
Vol. 3. DC also managed to place
Black Canary and Zatanna: Bloodspell
, an original graphic novel, in the top ten (at # 5), while Dark Horse's
Hellboy in Hell
Vol. 1 landed at #7. Legendary Comics' movie-driven
Godzilla: Awakening
, which was a potent #3 in the bookstores (see "
May BookScan--Top 20 Graphic Novels
"), could only manage to make it to #10 in the direct market.
The Top 10 Graphic Novels for May 2014
Batman Vol. 4: Zero Year: Secret City HC
Batman Vol. 3: Death of the Family
Black Science Vol. 1
X-Men: No More Humans HC
Black Canary and Zatanna: Bloodspell HC
Manifest Destiny Vol. 1
Hellboy in Hell Vol. 1: Descent
Saga Volume 3
Manhattan Projects Vol.4: Four Disciplines
Godzilla: Awakening HC