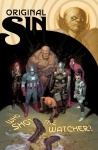 These are estimates of the sales on comic books by Diamond
U.S.
to comic specialty stores during May 2014.

For an overview and analysis of comic sales in May, see "Four Titles Over 100K in May."

For an analysis of the dollar trends in May, see "Comics Down Slightly in May."

For our estimates of actual sales by Diamond U.S. from comic specialty stores on graphic novels shipped during May, see "Top 300 Graphic Novels Actual--May 2014."
| | | | | | |
| --- | --- | --- | --- | --- | --- |
| | | TOP 300 COMICS – May 2014 | | | |
| Rank | Index | Title | Price | Pub | Est.Qty |
| 1 | 136.79 | ORIGINAL SIN #1 | $4.99 | MAR | 147,045 |
| 2 | 115.30 | AMAZING SPIDER-MAN #2 | $3.99 | MAR | 123,945 |
| 3 | 108.42 | AMAZING SPIDER-MAN #1.1 | $3.99 | MAR | 116,555 |
| 4 | 100.00 | BATMAN #31 (ZERO YEAR) | $3.99 | DC | 107,499 |
| 5 | 89.39 | FOREVER EVIL #7 | $4.99 | DC | 96,098 |
| 6 | 86.18 | ORIGINAL SIN #2 | $3.99 | MAR | 92,643 |
| 7 | 72.05 | JUSTICE LEAGUE #30 | $3.99 | DC | 77,456 |
| 8 | 66.37 | WALKING DEAD #127 (MR) | $2.99 | IMA | 71,352 |
| 9 | 65.85 | NEW 52 FUTURES END #1 [*] | $2.99 | DC | 70,788 |
| 10 | 62.14 | BATMAN ETERNAL #5 [*] | $2.99 | DC | 66,795 |
| 11 | 60.03 | BATMAN ETERNAL #6 [*] | $2.99 | DC | 64,530 |
| 12 | 59.73 | JUSTICE LEAGUE UNITED #1 | $3.99 | DC | 64,209 |
| 13 | 59.00 | SUPERMAN DOOMED #1 (N52) | $4.99 | DC | 63,424 |
| 14 | 58.11 | HARLEY QUINN #6 | $2.99 | DC | 62,467 |
| 15 | 57.95 | BATMAN ETERNAL #8 [*] | $2.99 | DC | 62,294 |
| 16 | 57.93 | ALL NEW X-MEN #27 | $3.99 | MAR | 62,269 |
| 17 | 57.72 | BATMAN ETERNAL #7 [*] | $2.99 | DC | 62,046 |
| 18 | 54.57 | AVENGERS #29 | $4.99 | MAR | 58,661 |
| 19 | 53.16 | NEW 52 FUTURES END #2 [*] | $2.99 | DC | 57,147 |
| 20 | 53.12 | AVENGERS #30 | $3.99 | MAR | 57,099 |
| 21 | 51.56 | SAGA #19 (MR) | $2.99 | IMA | 55,422 |
| 22 | 51.02 | BATMAN SUPERMAN #10 | $3.99 | DC | 54,844 |
| 23 | 50.93 | UNCANNY X-MEN #21 | $3.99 | MAR | 54,747 |
| 24 | 50.71 | DETECTIVE COMICS #31 | $3.99 | DC | 54,518 |
| 25 | 50.54 | GUARDIANS OF GALAXY #15 | $3.99 | MAR | 54,332 |
| 26 | 50.02 | NEW 52 FUTURES END #3 [*] | $2.99 | DC | 53,771 |
| 27 | 49.77 | BATMAN SUPERMAN #11 | $3.99 | DC | 53,504 |
| 28 | 49.47 | NEW 52 FUTURES END #4 [*] | $2.99 | DC | 53,178 |
| 29 | 48.75 | DEADPOOL #29 | $3.99 | MAR | 52,403 |
| 30 | 48.27 | UNCANNY AVENGERS #20 | $3.99 | MAR | 51,886 |
| 31 | 47.77 | JUSTICE LEAGUE OF AMERICA #14 | $3.99 | DC | 51,351 |
| 32 | 44.47 | SUPERMAN WONDER WOMAN #8 | $3.99 | DC | 47,803 |
| 33 | 44.28 | THANOS ANNUAL #1 | $4.99 | MAR | 47,599 |
| 34 | 44.16 | CYCLOPS #1 | $3.99 | MAR | 47,468 |
| 35 | 43.43 | DEADPOOL VS CARNAGE #3 | $3.99 | MAR | 46,688 |
| 36 | 42.66 | MILES MORALES ULTIMATE SPIDER-MAN #1 | $3.99 | MAR | 45,864 |
| 37 | 42.66 | DEADPOOL #28 | $3.99 | MAR | 45,858 |
| 38 | 40.86 | NIGHTWING #30 (NOTE PRICE) | $3.99 | DC | 43,923 |
| 39 | 40.72 | GREEN LANTERN #31 (UPRISING) | $2.99 | DC | 43,769 |
| 40 | 40.62 | NEW AVENGERS #18 | $3.99 | MAR | 43,668 |
| 41 | 39.63 | MOON KNIGHT #3 | $3.99 | MAR | 42,607 |
| 42 | 39.63 | SERENITY LEAVES ON THE WIND #5 | $3.50 | DAR | 42,606 |
| 43 | 39.55 | AMAZING X-MEN #7 | $3.99 | MAR | 42,512 |
| 44 | 39.21 | BATMAN AND FRANKENSTEIN #31 | $2.99 | DC | 42,150 |
| 45 | 38.89 | INHUMAN #2 | $3.99 | MAR | 41,810 |
| 46 | 38.39 | DEADPOOL ANNUAL #2 | $4.99 | MAR | 41,271 |
| 47 | 38.22 | ACTION COMICS #31 | $3.99 | DC | 41,081 |
| 48 | 37.71 | SUPERMAN #31 | $2.99 | DC | 40,534 |
| 49 | 36.74 | X-MEN #14 | $3.99 | MAR | 39,499 |
| 50 | 36.57 | DAREDEVIL #3 | $3.99 | MAR | 39,316 |
| 51 | 35.96 | STAR WARS #8 LUCAS DRAFT | $3.99 | DAR | 38,654 |
| 52 | 35.01 | HULK #3 | $3.99 | MAR | 37,639 |
| 53 | 34.37 | THOR GOD OF THUNDER #22 | $3.99 | MAR | 36,945 |
| 54 | 33.15 | MPH #1 | $2.99 | IMA | 35,632 |
| 55 | 33.09 | WOLVERINE #6 | $3.99 | MAR | 35,571 |
| 56 | 33.03 | MAGNETO #3 | $3.99 | MAR | 35,504 |
| 57 | 32.89 | NIGHTCRAWLER #2 | $3.99 | MAR | 35,356 |
| 58 | 32.59 | WOLVERINE #7 | $3.99 | MAR | 35,039 |
| 59 | 32.41 | MS MARVEL #4 | $2.99 | MAR | 34,839 |
| 60 | 32.22 | SINESTRO #2 | $2.99 | DC | 34,640 |
| 61 | 32.12 | EARTH 2 #23 | $2.99 | DC | 34,531 |
| 62 | 31.85 | FLASH #31 | $2.99 | DC | 34,240 |
| 63 | 31.30 | IRON FIST LIVING WEAPON #2 | $3.99 | MAR | 33,643 |
| 64 | 31.18 | WOLVERINE AND X-MEN #4 | $3.99 | MAR | 33,521 |
| 65 | 31.01 | FANTASTIC FOUR #5 | $4.99 | MAR | 33,336 |
| 66 | 30.94 | FANTASTIC FOUR #4 | $3.99 | MAR | 33,263 |
| 67 | 30.76 | MAGNETO #4 | $3.99 | MAR | 33,070 |
| 68 | 30.67 | SECRET ORIGINS #2 | $4.99 | DC | 32,966 |
| 69 | 29.84 | AQUAMAN #31 | $2.99 | DC | 32,076 |
| 70 | 29.70 | TREES #1 (MR) [*] | $2.99 | IMA | 31,926 |
| 71 | 29.35 | BATGIRL #31 | $2.99 | DC | 31,552 |
| 72 | 28.52 | WONDER WOMAN #31 | $2.99 | DC | 30,655 |
| 73 | 28.22 | CAPTAIN AMERICA #20 | $3.99 | MAR | 30,341 |
| 74 | 27.50 | IRON MAN #25 | $3.99 | MAR | 29,558 |
| 75 | 26.95 | AVENGERS WORLD #6 | $3.99 | MAR | 28,969 |
| 76 | 26.71 | MIGHTY AVENGERS #10 | $3.99 | MAR | 28,711 |
| 77 | 26.66 | IRON MAN #26 | $3.99 | MAR | 28,654 |
| 78 | 26.46 | GREEN LANTERN CORPS #31 (UPRISING) | $2.99 | DC | 28,449 |
| 79 | 26.27 | STAR WARS #17 2013 ONGOING | $2.99 | DAR | 28,241 |
| 80 | 25.82 | ALL NEW GHOST RIDER #3 | $3.99 | MAR | 27,756 |
| 81 | 25.55 | PUNISHER #5 | $3.99 | MAR | 27,471 |
| 82 | 25.18 | AFTERLIFE WITH ARCHIE #5 | $2.99 | ARC | 27,071 |
| 83 | 25.17 | EAST OF WEST #12 | $3.50 | IMA | 27,056 |
| 84 | 24.83 | WAKE #8 (MR) | $2.99 | DC | 26,694 |
| 85 | 24.76 | ELEKTRA #2 | $3.99 | MAR | 26,612 |
| 86 | 24.39 | X-FORCE #5 | $3.99 | MAR | 26,215 |
| 87 | 24.37 | AQUAMAN AND THE OTHERS #2 | $2.99 | DC | 26,198 |
| 88 | 24.31 | BLACK WIDOW #6 | $3.99 | MAR | 26,136 |
| 89 | 24.24 | CAPTAIN MARVEL #3 | $3.99 | MAR | 26,057 |
| 90 | 24.20 | LOKI AGENT OF ASGARD #4 | $2.99 | MAR | 26,012 |
| 91 | 24.01 | SOUTHERN BASTARDS #2 (MR) [*] | $3.50 | IMA | 25,811 |
| 92 | 23.94 | JUSTICE LEAGUE 3000 #6 | $2.99 | DC | 25,738 |
| 93 | 23.76 | SHE-HULK #4 | $2.99 | MAR | 25,543 |
| 94 | 23.57 | JUSTICE LEAGUE DARK #31 | $3.99 | DC | 25,337 |
| 95 | 23.14 | ALL NEW X-FACTOR #7 | $3.99 | MAR | 24,873 |
| 96 | 22.61 | RED LANTERNS #31 | $2.99 | DC | 24,307 |
| 97 | 22.59 | ALL NEW X-FACTOR #8 | $3.99 | MAR | 24,283 |
| 98 | 22.48 | ALL NEW ULTIMATES #2 | $3.99 | MAR | 24,165 |
| 99 | 22.32 | GIANT SIZE SPIDER-MAN #1 | $4.99 | MAR | 23,996 |
| 100 | 22.22 | GREEN LANTERN NEW GUARDIANS #31 | $2.99 | DC | 23,886 |
| 101 | 21.84 | GREEN ARROW #31 | $2.99 | DC | 23,475 |
| 102 | 21.53 | TEEN TITANS ANNUAL #3 | $4.99 | DC | 23,140 |
| 103 | 21.27 | SECRET AVENGERS #3 | $3.99 | MAR | 22,860 |
| 104 | 21.23 | MY LITTLE PONY FRIENDSHIP IS MAGIC #19 | $3.99 | IDW | 22,820 |
| 105 | 21.19 | SUPERGIRL #31 | $2.99 | DC | 22,783 |
| 106 | 21.16 | NAILBITER #1 (MR) | $2.99 | IMA | 22,746 |
| 107 | 20.84 | MIRACLEMAN #5 | $4.99 | MAR | 22,399 |
| 108 | 20.52 | SUICIDE SQUAD #30 | $3.99 | DC | 22,063 |
| 109 | 20.32 | ALL NEW INVADERS #5 | $3.99 | MAR | 21,843 |
| 110 | 20.25 | THUNDERBOLTS #26 | $2.99 | MAR | 21,771 |
| 111 | 20.14 | NOVA #17 | $3.99 | MAR | 21,652 |
| 112 | 20.09 | SAVAGE WOLVERINE #18 | $3.99 | MAR | 21,599 |
| 113 | 19.77 | RED HOOD AND THE OUTLAWS #31 | $2.99 | DC | 21,257 |
| 114 | 19.67 | SAVAGE WOLVERINE #19 | $3.99 | MAR | 21,144 |
| 115 | 19.64 | WORLDS FINEST #23 | $2.99 | DC | 21,118 |
| 116 | 19.40 | COWL #1 (MR) | $3.50 | IMA | 20,851 |
| 117 | 19.16 | MIRACLEMAN #6 | $4.99 | MAR | 20,598 |
| 118 | 19.12 | BTVS SEASON 10 #3 | $3.50 | DAR | 20,556 |
| 119 | 18.96 | STAR WARS REBEL HEIST #2 | $3.50 | DAR | 20,387 |
| 120 | 18.84 | VELVET #5 (MR) | $2.99 | IMA | 20,258 |
| 121 | 18.74 | CATWOMAN #31 | $2.99 | DC | 20,144 |
| 122 | 18.54 | WINTER SOLDIER BITTER MARCH #4 | $3.99 | MAR | 19,930 |
| 123 | 18.51 | NEW WARRIORS #4 | $3.99 | MAR | 19,900 |
| 124 | 18.50 | STARLIGHT #3 (MR) | $2.99 | IMA | 19,891 |
| 125 | 18.45 | INJUSTICE GODS AMONG US YEAR TWO #5 | $2.99 | DC | 19,834 |
| 126 | 18.32 | AVENGERS UNDERCOVER #4 | $2.99 | MAR | 19,696 |
| 127 | 18.22 | MARVELS GUARDIANS OF GALAXY PRELUDE #2 | $2.99 | MAR | 19,588 |
| 128 | 18.17 | CHAOS #1 | $3.99 | DE | 19,537 |
| 129 | 17.97 | DEADLY HANDS OF KUNG FU #1 | $3.99 | MAR | 19,315 |
| 130 | 17.96 | MY LITTLE PONY FRIENDS FOREVER #5 | $3.99 | IDW | 19,312 |
| 131 | 17.84 | HELLBOY IN HELL #6 | $2.99 | DAR | 19,179 |
| 132 | 17.34 | BATMAN 66 #11 | $3.99 | DC | 18,642 |
| 133 | 17.19 | UNITED STATES OF MURDER INC #1 (MR) | $3.99 | MAR | 18,474 |
| 134 | 17.18 | BATWOMAN #31 | $2.99 | DC | 18,463 |
| 135 | 17.15 | INVINCIBLE #111 (MR) | $2.99 | IMA | 18,440 |
| 136 | 16.99 | CHEW / REVIVAL #1 (MR) | $4.99 | IMA | 18,259 |
| 137 | 16.98 | SWAMP THING #31 | $2.99 | DC | 18,249 |
| 138 | 16.21 | CONSTANTINE #14 | $2.99 | DC | 17,422 |
| 139 | 15.91 | DEADLY CLASS #5 (MR) | $3.50 | IMA | 17,099 |
| 140 | 15.90 | STAR WARS DARTH MAUL SON OF DATHOMIR #1 | $3.50 | DAR | 17,095 |
| 141 | 15.87 | ULTIMATE FF #2 | $3.99 | MAR | 17,059 |
| 142 | 15.32 | DOCTOR SPEKTOR #1 [*] | $3.99 | DE | 16,471 |
| 143 | 14.83 | BIRDS OF PREY #31 | $2.99 | DC | 15,947 |
| 144 | 14.55 | AMERICAN VAMPIRE SECOND CYCLE #3 (MR) | $2.99 | DC | 15,642 |
| 145 | 13.97 | ALL NEW DOOP #2 | $3.99 | MAR | 15,022 |
| 146 | 13.80 | IRON PATRIOT #3 | $3.99 | MAR | 14,840 |
| 147 | 13.76 | SUPERBOY #31 | $2.99 | DC | 14,795 |
| 148 | 13.67 | FATALE #22 (MR) | $3.50 | IMA | 14,694 |
| 149 | 13.21 | ANGEL AND FAITH SEASON 10 #2 | $3.50 | DAR | 14,200 |
| 150 | 13.00 | FABLES #140 (MR) | $2.99 | DC | 13,977 |
| 151 | 12.95 | WOODS #1 | $3.99 | BOO | 13,916 |
| 152 | 12.90 | BATMAN BEYOND UNIVERSE #10 | $3.99 | DC | 13,869 |
| 153 | 12.83 | ASTRO CITY #12 | $3.99 | DC | 13,795 |
| 154 | 12.71 | TRINITY OF SIN PANDORA #11 | $2.99 | DC | 13,659 |
| 155 | 12.69 | TRINITY OF SIN THE PHANTOM STRANGER #19 | $2.99 | DC | 13,641 |
| 156 | 12.46 | TMNT 30TH ANNIVERSARY SPECIAL | $7.99 | IDW | 13,391 |
| 157 | 12.32 | AMAZING SPIDER-MAN #1 | $5.99 | MAR | 13,240 |
| 158 | 11.91 | ADVENTURE TIME #28 | $3.99 | BOO | 12,806 |
| 159 | 11.62 | X-O MANOWAR #25 | $4.99 | VAL | 12,493 |
| 160 | 11.60 | STAR WARS LEGACY II #15 | $2.99 | DAR | 12,473 |
| 161 | 11.56 | HE MAN AND THE MASTERS OF THE UNIVERSE #13 | $2.99 | DC | 12,430 |
| 162 | 11.41 | SHUTTER #2 (MR) | $3.50 | IMA | 12,267 |
| 163 | 11.35 | BEE AND PUPPYCAT #1 | $3.99 | BOO | 12,204 |
| 164 | 11.27 | LARFLEEZE #11 | $2.99 | DC | 12,110 |
| 165 | 11.18 | ALL STAR WESTERN #31 | $3.99 | DC | 12,023 |
| 166 | 11.02 | RED SONJA #9 | $3.99 | DE | 11,850 |
| 167 | 10.95 | X-FILES SEASON 10 #12 | $3.99 | IDW | 11,773 |
| 168 | 10.90 | SPAWN #243 | $2.99 | IMA | 11,714 |
| 169 | 10.70 | SANDMAN OVERTURE #2 SPECIAL EDITION (MR) | $4.99 | DC | 11,499 |
| 170 | 10.69 | FAIREST #26 (MR) | $2.99 | DC | 11,493 |
| 171 | 10.68 | RAT QUEENS #6 (MR) | $3.50 | IMA | 11,476 |
| 172 | 10.63 | REAL HEROES #2 | $3.99 | IMA | 11,426 |
| 173 | 10.58 | SMALLVILLE SEASON 11 LANTERN #2 | $3.99 | DC | 11,372 |
| 174 | 10.51 | TOMB RAIDER #4 | $3.50 | DAR | 11,300 |
| 175 | 9.62 | REVIVAL #20 (MR) | $2.99 | IMA | 10,341 |
| 176 | 9.34 | ADVENTURES OF SUPERMAN #13 | $3.99 | DC | 10,045 |
| 177 | 9.30 | SATELLITE SAM #8 (MR) | $3.50 | IMA | 9,997 |
| 178 | 9.25 | CONAN THE AVENGER #2 | $3.50 | DAR | 9,946 |
| 179 | 9.21 | LUMBERJANES #2 | $3.99 | BOO | 9,904 |
| 180 | 9.18 | ALEX + ADA #6 | $2.99 | IMA | 9,869 |
| 181 | 9.09 | MADAME FRANKENSTEIN #1 | $2.99 | IMA | 9,771 |
| 182 | 9.05 | STAR TREK ONGOING #33 | $3.99 | IDW | 9,729 |
| 183 | 8.96 | ROCKET GIRL #5 | $3.50 | IMA | 9,630 |
| 184 | 8.95 | THIEF OF THIEVES #21 (MR) | $2.99 | IMA | 9,625 |
| 185 | 8.94 | TRANSFORMERS ROBOTS IN DISGUISE #29 DAWN O/T AUTOBOTS | $3.99 | IDW | 9,615 |
| 186 | 8.88 | TRANSFORMERS MORE THAN MEETS EYE #29 DAWN O/T AUTOBOTS | $3.99 | IDW | 9,543 |
| 187 | 8.79 | CALIBAN #2 (MR) | $3.99 | AVA | 9,454 |
| 188 | 8.68 | DEXTER DOWN UNDER #4 | $3.99 | MAR | 9,329 |
| 189 | 8.63 | GOD IS DEAD #12 (MR) | $3.99 | AVA | 9,275 |
| 190 | 8.62 | DEAD BODY ROAD #6 (MR) | $2.99 | IMA | 9,266 |
| 191 | 8.53 | ADVENTURE TIME FLIP SIDE #5 | $3.99 | BOO | 9,174 |
| 192 | 8.37 | POWERS BUREAU #10 (MR) | $3.95 | MAR | 9,002 |
| 193 | 8.36 | GOD IS DEAD #13 (MR) | $3.99 | AVA | 8,987 |
| 194 | 8.35 | TRANSFORMERS WINDBLADE #2 | $3.99 | IDW | 8,980 |
| 195 | 8.32 | BATWING #31 | $2.99 | DC | 8,941 |
| 196 | 8.30 | SOLAR MAN O/T ATOM #2 | $3.99 | DE | 8,918 |
| 197 | 8.25 | SONIC THE HEDGEHOG #260 | $2.99 | ARC | 8,866 |
| 198 | 8.05 | UNITY #7 | $3.99 | VAL | 8,653 |
| 199 | 7.92 | SONS OF ANARCHY #9 (MR) | $3.99 | BOO | 8,511 |
| 200 | 7.88 | SAMURAI JACK #8 | $3.99 | IDW | 8,471 |
| 201 | 7.84 | KING CONAN CONQUEROR #4 | $3.50 | DAR | 8,428 |
| 202 | 7.84 | TUROK DINOSAUR HUNTER #4 | $3.99 | DE | 8,426 |
| 203 | 7.75 | MAGNUS ROBOT FIGHTER #3 | $3.99 | DE | 8,333 |
| 204 | 7.73 | BPRD HELL ON EARTH #119 | $3.50 | DAR | 8,306 |
| 205 | 7.68 | FLASH GORDON #2 | $3.99 | DE | 8,255 |
| 206 | 7.64 | LITTLEST PET SHOP #1 | $3.99 | IDW | 8,211 |
| 207 | 7.62 | SEX #13 (MR) | $2.99 | IMA | 8,192 |
| 208 | 7.61 | VEIL #3 (MR) | $3.50 | DAR | 8,184 |
| 209 | 7.57 | TWILIGHT ZONE #5 | $3.99 | DE | 8,140 |
| 210 | 7.45 | HARBINGER #23 | $3.99 | VAL | 8,011 |
| 211 | 7.41 | REVENGE #3 (MR) | $2.99 | IMA | 7,969 |
| 212 | 7.41 | ELFQUEST FINAL QUEST #3 | $3.50 | DAR | 7,967 |
| 213 | 7.38 | STRAY BULLETS THE KILLERS #3 (MR) | $3.50 | IMA | 7,935 |
| 214 | 7.34 | GODZILLA RULERS OF THE EARTH #12 | $3.99 | IDW | 7,890 |
| 215 | 7.25 | CLIVE BARKERS NIGHTBREED #1 (MR) | $3.99 | BOO | 7,790 |
| 216 | 7.24 | GFT WARLORD OF OZ #1 | $2.99 | ZEN | 7,787 |
| 217 | 7.23 | SHADOW MIDNIGHT MOSCOW #1 | $3.99 | DE | 7,772 |
| 218 | 7.12 | UBER #13 (MR) | $3.99 | AVA | 7,653 |
| 219 | 7.11 | MEGA MAN #37 | $2.99 | ARC | 7,640 |
| 220 | 7.07 | SHADOW #25 | $3.99 | DE | 7,602 |
| 221 | 7.03 | ABE SAPIEN #12 | $3.50 | DAR | 7,559 |
| 222 | 7.03 | ARCHER & ARMSTRONG #20 | $3.99 | VAL | 7,553 |
| 223 | 6.98 | SONIC UNIVERSE #63 | $2.99 | ARC | 7,507 |
| 224 | 6.96 | HINTERKIND #7 (MR) | $2.99 | DC | 7,487 |
| 225 | 6.90 | SCOOBY DOO TEAM UP #4 [*] | $2.99 | DC | 7,417 |
| 226 | 6.89 | STAR TREK NEW VISIONS #1 MIRROR CRACKED | $7.99 | IDW | 7,411 |
| 227 | 6.84 | BLOODSHOT & HARD CORPS #22 | $3.99 | VAL | 7,350 |
| 228 | 6.80 | DEAD BOY DETECTIVES #6 | $2.99 | DC | 7,305 |
| 229 | 6.76 | UNWRITTEN VOL 2 APOCALYPSE #5 (MR) | $3.99 | DC | 7,267 |
| 230 | 6.76 | SHADOW YEAR ONE #9 | $3.99 | DE | 7,262 |
| 231 | 6.74 | FBP FEDERAL BUREAU OF PHYSICS #10 (MR) | $2.99 | DC | 7,242 |
| 232 | 6.73 | BLACK DYNAMITE #2 | $3.99 | IDW | 7,233 |
| 233 | 6.73 | QUANTUM & WOODY #10 | $3.99 | VAL | 7,232 |
| 234 | 6.68 | DISNEY KINGDOMS SEEKERS OF WEIRD #5 | $3.99 | MAR | 7,185 |
| 235 | 6.66 | ROYALS MASTERS OF WAR #4 (MR) | $2.99 | DC | 7,156 |
| 236 | 6.61 | PATHFINDER CITY SECRETS #1 | $4.99 | DE | 7,101 |
| 237 | 6.59 | DEJAH OF MARS #1 (MR) | $3.99 | DE | 7,085 |
| 238 | 6.46 | DANGER GIRL MAYDAY #2 | $3.99 | IDW | 6,945 |
| 239 | 6.43 | V-WARS #2 [*] | $3.99 | IDW | 6,912 |
| 240 | 6.34 | WRAITH WELCOME TO CHRISTMASLAND #6 | $3.99 | IDW | 6,811 |
| 241 | 6.31 | GI JOE A REAL AMERICAN HERO #202 | $3.99 | IDW | 6,781 |
| 242 | 6.18 | FIELD #2 (MR) | $3.50 | IMA | 6,639 |
| 243 | 6.17 | FUSE #4 (MR) | $3.50 | IMA | 6,637 |
| 244 | 6.16 | SPONGEBOB COMICS #32 | $2.99 | UNI | 6,623 |
| 245 | 6.16 | CROSSED BADLANDS #53 (MR) | $3.99 | AVA | 6,617 |
| 246 | 6.06 | BUNKER #4 | $3.99 | ONI | 6,518 |
| 247 | 6.02 | MASSIVE #23 | $3.50 | DAR | 6,470 |
| 248 | 5.97 | CROSSED BADLANDS #54 (MR) | $3.99 | AVA | 6,420 |
| 249 | 5.88 | 24 #2 | $3.99 | IDW | 6,326 |
| 250 | 5.79 | ZERO #8 (MR) | $2.99 | IMA | 6,225 |
| 251 | 5.79 | ROVER RED CHARLIE #6 (MR) | $5.99 | AVA | 6,222 |
| 252 | 5.78 | SHADOWMAN END TIMES #2 | $3.99 | VAL | 6,216 |
| 253 | 5.74 | ORIGINAL SIN #0 | $4.99 | MAR | 6,166 |
| 254 | 5.72 | JUDGE DREDD #19 | $3.99 | IDW | 6,152 |
| 255 | 5.69 | UNDERTOW #4 (MR) | $2.99 | IMA | 6,114 |
| 256 | 5.68 | MERCENARY SEA #4 | $2.99 | IMA | 6,103 |
| 257 | 5.65 | TAROT WITCH OF THE BLACK ROSE #86 (MR) | $2.95 | BRO | 6,078 |
| 258 | 5.65 | TMNT NEW ANIMATED ADVENTURES #11 | $3.99 | IDW | 6,075 |
| 259 | 5.64 | GHOSTBUSTERS #16 | $3.99 | IDW | 6,061 |
| 260 | 5.63 | GFT GRIMM FAIRY TALES #97 (MR) | $2.99 | ZEN | 6,055 |
| 261 | 5.63 | SHELTERED #9 | $2.99 | IMA | 6,047 |
| 262 | 5.62 | SCRIBBLENAUTS UNMASKED CRISIS OF IMAGINATION #5 | $2.99 | DC | 6,045 |
| 263 | 5.61 | POWERPUFF GIRLS #9 | $3.99 | IDW | 6,032 |
| 264 | 5.60 | CYBER FORCE #9 | $2.99 | IMA | 6,022 |
| 265 | 5.52 | SIX MILLION DOLLAR MAN SEASON 6 #3 | $3.99 | DE | 5,934 |
| 266 | 5.50 | FUTURAMA COMICS #71 | $2.99 | BON | 5,914 |
| 267 | 5.29 | ASH & THE ARMY OF DARKNESS #7 | $3.99 | DE | 5,690 |
| 268 | 5.29 | GFT WONDERLAND CLASH OF QUEENS #4 | $3.99 | ZEN | 5,685 |
| 269 | 5.24 | MOVEMENT #12 | $2.99 | DC | 5,629 |
| 270 | 5.22 | SOVEREIGN #3 (MR) | $2.99 | IMA | &nbsp |