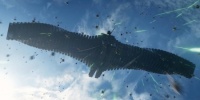 A new extended
Guardians of the Galaxy
trailer expands the amount of footage that's been shown, and the director is talking about finishing and sharing images.
Director James Gunn posted on Facebook on Monday that other than 3D, he'd completed his work on the film (which is good, because it opens in less than a month, on August 1st in the U.S.). "I couldn't be feeling more gratitude and love for all the people who have helped create this film," Gunn said. "However the audiences take it, there's not a single dishonest or impure bone in
Guardians
' cinematic body--and that's a hell of a thing for a spectacle film of this size with so many people involved. Best experience of my life."
Gunn has also been posting images on Facebook, including the picture accompanying this article, of which he said "Ronan's ship, the Dark Aster, many miles wide."
This is only the latest in a steady string of videos and images related to the film (see "
Lots of New 'Guardians of the Galaxy' Footage
").