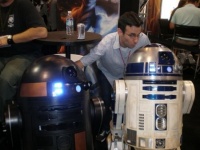 Dark Horse has promoted Nick McWhorter to Vice President of Media Licensing, the company announced Monday. McWhorter is a ten year veteran at the company, where he has held roles including Special Projects Manager and, most recently, Director of Custom Projects.
Dark Horse president Mike Richardson sang his praises. "Nick has helped to bring a new vision to our licensed publishing line," he said. "We have now published multiple successful series based on prominent video game brands, as well as a line of impressive at books. I am pleased to see Nick expand his role in Dark Horse's overall licensing efforts into media of all kinds."
Dark Horse has sold over 400,000 copies of its
Legend of Zelda: Hyrule Historia
since release in 2013 (see "
Dark Horse Videogame Books
").