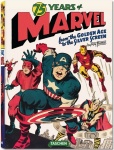 Marvel has announced the fall publication of
75 Years of Marvel: From the Golden Age to the Silver Screen
by German art book publisher Taschen.
The book is penned by comics historian and former Marvel editor-in-chief Roy Thomas, with editorial help from art director and editor Josh Baker.
The book will include not only a look at familiar characters, but also an inside look at the creators who brought them to life: Stan Lee, Jack Kirby, Steve Ditko, John Romita, John Buscema, Marie Severin and others.
The 720-page book will include over 2,000 images including vintage comic books, original art, behind-the-scenes photos, film stills, and rare toys and collectibles. It will also include a four foot accordion-fold timeline of Marvel's history. The hardcover 11.4" x 15.6" book, which is slightly smaller in size than the 16-pound, 720-page book DC produced for its 75th Anniversary in 2010 (see "
'75 Years of DC Comics'
"), is slated for fall release (Amazon currently lists publication as December 1st). MSRP for the Marvel book, as was the case for the DC tome, is $200.