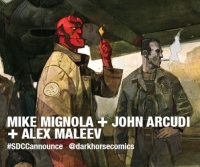 San Diego Comic-Con News:
Dark Horse has announced a dozen new creator owned titles at San Diego Comic-Con, including work by Mike Mignola, Bill Morrison, Jeff Lemire, Matt Kindt and Brian Wood, among others.
Mike Mignola and John Arcudi will team with artist Alexander Maleev (
Daredevil, Moon Knight
) on
Hellboy and the B.P.R.D
, a new title featuring a young Hellboy on his first mission. Professor Bruttenhold sends Hellboy and a small group of agents to a Brazilian village to solve a bizarre series of murders occurring in the shadows of a 16th Century Portuguese fortress. The series launches December 3rd.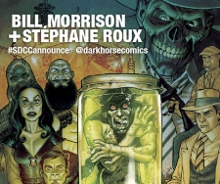 Dead Vengeance
will be penned by Bill Morrison with art by Stephane Roux (
Birds of Prey, Zatanna
). Set in 1940, the story begins when a phony sideshow body on display at the carnival suddenly springs to life and escapes. The body is John Doe, a radio commentator and enemy of Detroit's mayor, mob, and cops; who mysteriously disappeared in 1930. The series launches January 21st.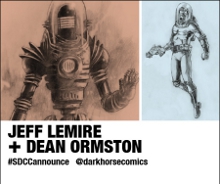 Jeff Lemire will team with artist Dean Ormston (
Judge Dredd: The Megazine,
Lucifer) on
The Black Hammer
. In a reality-bending adventure tale of human drama, heroes Abraham Slam, Col. Weird, Golden Gail, Barbalien and Madame Dragonfly awoke one day to find they had been wiped out of continuity and are stranded on a small farm with only the massive iron hammer of a fallen teammate to remind them of the world they came from. After 10 years, they've given up hope of returning to their reality, until the Black Hammer's daughter suddenly appears. The series will launch on March 11, 2015.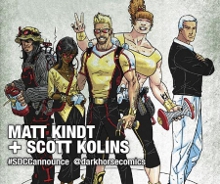 PastAways
will be written by Matt Kindt (
Mind MGMT, Unity
), with art by Scott Kolins (
The Flash, Omega Flight
). When four time-traveling researchers from the future get stuck in the present, a side effect of their mission unexpectedly makes them immortal. But other time breaches are causing dinosaurs to appear and future buildings to crash into the present, so the unlikely hero team must defend humanity. The series will launch on March 18, 2015.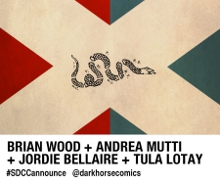 Brian Wood (
DMZ, The Massive
) will pen
Rebels,
with art by Andrea Mutti (
Nathan Never, Noir
) and colors by Jordie Bellaire (
The Manhattan Projects, Deadpool
). The title will include a series of gritty historical tales of freedom fighters, who fought to win independence from tyranny, including the Green Mountain Boys in the opening story.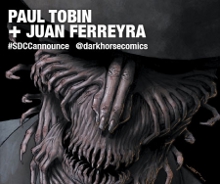 Paul Tobin (
The Age of the Sentry, Marvel Adventures: Fantastic Four
) will again team with Juan Ferreyra (
Rex Mundi, Kiss Me Satan!
) for a sequel to his 2012 mini-series
Colder
.
Colder: The Bad Seed
picks up with Declan Thomas after his encounter with Nimble Jack, as his powers continue to develop, and attract the attention of the malevolent Swivel
.
The title will launch October 22nd.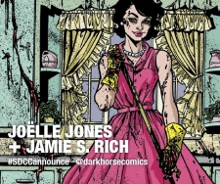 Lady Killer
will be written by Joelle Jones (
House of Night, Madame Frankenstein
) and Jamie S. Rich (
Queen & Country, Grendel
)
,
with Jones also on art. The series will follow a suburban housewife who also happens to be a highly paid professional assassin. The series launches on January 7th.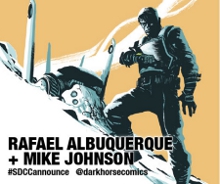 Rafael Albuquerque (
Blue Beetle, American Vampire
)and Mike Johnson(
Star Trek, Supergirl
) will team on
EI8HT
, a story involving inter-dimensional traveler Joshua, who is trapped in the Meld, with no memory and no communication with the scientists that sent him there. The series will launch in February 2015.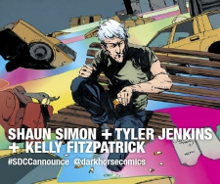 Neverboy
will be written by Shaun Simon (
The True Lives of the Fabulous Killjoys
), with art by Tyler Jenkins (
Peter Panzerfaust
) and color by Kelly Fitzpatrick (
Deceivers
). The story is a collision of real world and the imaginary, when abandoned imaginary friend Neverboy meets Julian Drag, a struggling artist. The series launches on March 4, 2015.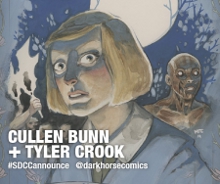 Cullen Bunn
(The Sixth Gun
) will write
Harrow County
, with art by Tyler Crook (
Bad Blood, B.PR.D. Hell On Earth
). Young 17-year-old Emmy was born on a day an evil witch was put to death, and has grown up surrounded by ghosts, goblins and the dead. The creatures whisper that Emmy will have great power one day, and that the townsfolk know it, and want her dead. The series will launch April 8, 2015.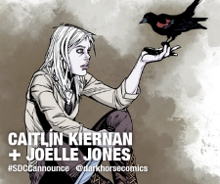 Caitlin R. Kieran (
The Dreaming, Vertigo: Winter's Edge) will
pen
Alabaster: The Good, the Bad, and the Bird
, with art by Joelle Jones(
House of Night, Madame Frankenstein
). The story follows Dancy Flammarion, a year after her death in a burning barn, as her seraph comes to collect her. Dancy must face down her demons, both real and psychological before she can leave her personal hell. The series is planned for May 20, 2015 release.
These new titles join the previously announced
Fight Club
sequel from Chuck Palahniuk (see "
Dark Horse to Publish 'Fight Club' Sequel Comic
"), which makes it a dozen.