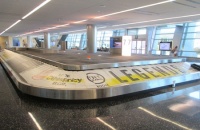 Here's the story of San Diego Comic-Con International in pictures, beginning with Preview Night and the first full day Thursday. See also
Part 2
.
NOTE: Any image can be clicked for a larger view.
As usual, the marketing deluge started at the airport: in our terminal, for the TNT series
Legends
, based on
Legends: A Novel of Dissimulation
, by spy novelist Robert Littell.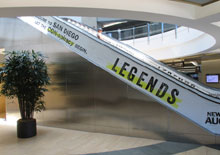 And the luggage carousel wasn't enough.
Nice design and merchandising at the Apple 8 clothing booth.
Anime company Sentai Filmworks was promoting
Battle of the Planets
, which it licensed with
Gatchaman
and other properties from Tatsunoko earlier this year.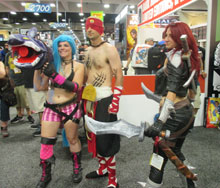 This group seemed to be armed to the gills.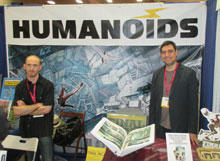 Ladronn (right) was at the Humanoids booth signing
The Final Incal
(see "
'Final Incal' in English
").
David Spurlock (Vanguard Productions) had original art and prints from the Frazetta estate at the show, including this print (and the original strip art in the foreground). And yes, that's famed artist Jim Steranko standing in the background.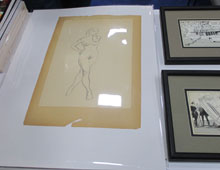 He also brought this Frazetta sketch.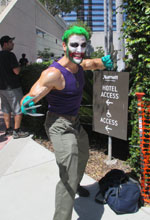 Outside the hall, this gentleman introduced himself as "The Jokerine."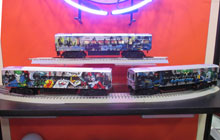 DC licensed train cars from Lionel at the Diamond booth. The three car set will retail for $349.
Click here for
Part 2
.