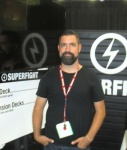 Superfight
card game creator Darin Ross confirmed in an interview that there will be an expansion for the game based on
The Walking Dead.
Ross's game had a section at the Skybound Entertainment booth at San Diego Comic Con, the result of his new partnership with Skybound (see "
Skybound to Distribute 'Superfight'
").
"Before Skybound partnered with me, I was doing the entire fulfillment myself, and I did have some relationship with retailers, but I didn't go through distribution, I just did fulfillment myself," Ross said. "Now that's going to change obviously, now Skybound is leaning its weight into this."
"We've got a lot of new SKUs planned," he said, reiterating how he initially approached Skybound to create a licensed expansion around its
The Walking Dead
comic property. "They said yes, we want to make that expansion (
The Walking Dead
), and we want to help you do everything else."
Other licensed expansions are planned as well, "We both agree that is something we very much want to pursue," Ross said.
In the party game, two players square off against each other creating fictional characters equipped with different attributes from a random deck, and arguing a case as to why they would win a fight against their opponent's creation (for example: A Kindergarden Class/ Equipped with Jet Packs/ Who breathe Fire against A T-Rex/ Who Can't See/Who Has Laser Vision). The audience votes on the winner.
For an independent game, the sales are impressive. The game was initially funded in 2013 via Kickstarter, and had 1,214 backers. While he couldn't provide specific sales numbers, Ross still said sales in the last year have amazed him. "The first four printings sold out in presales by the time the ship got here," he said. While Skybound was not able to comment on distribution plans at this time, Ross said stock has been replenished, and the game and expansions were available for sale at the show.