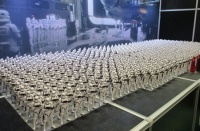 Here's the story of San Diego Comic-Con International in pictures, this group on Saturday. To go back to the beginning of our series, see
Part 1
. To check out Friday, see
Part 3
.
[NOTE: Any image can be clicked for a larger view.]
At Kotobukiya, an imperial army.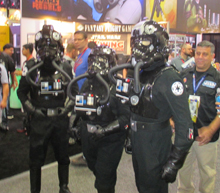 Star Wars
Imperial TIE Fighter Pilots.
A couple below is overcome by the romance of the giant
Star Wars
screen.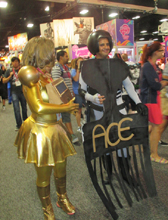 Dot Matrix and a Spaceball Soldier (who "combs" the desert for Princess Vespa) from
Spaceballs
.
At the Marvel booth, from
Guardians of the Galaxy
.
And here, Cap's bike from
Avengers: Age of Ultron
.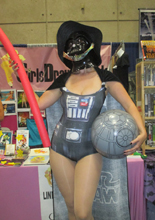 A female Darth Vader, ready for the pool.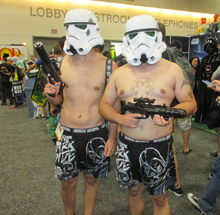 Manscaping the Imperial symbol on his chest is hardcore.
A vampire, ready for Mardi Gras.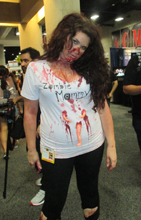 Looks like the Zombie Mommy's c-section has gone bad.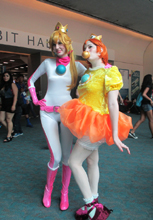 Blue orbs and crowns adorn these cosplayers.
From the new
Tomb Raider.
Click here
for Part 9.