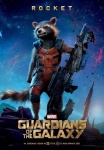 James Gunn's
Guardians of the Galaxy
scored a victory of nearly galactic proportions (for a first time movie property) as it obliterated the previous record for an August opening held by
The Bourne Ultimatum
($69.3 million) with a stellar $94 million dollar debut that powered the box office to its first year-over-year win in weeks. The total of the top 12 films was up 40% from the same weekend last year when the comic book-based action film
2 Guns
opened with $27 million.
Guardians of the Galaxy
earned a 2014-best total of $11.2 million on its Thursday night showings, an indication that there was extremely high interest in the movie among comic book fans, but Disney mounted a masterful campaign to position the film as a family-friendly space opera and
Guardians
maintained its box office dominance through the weekend with a muscular $23,039 per theater average at an August record 4080 theaters. The movie attracted an audience that was 56% male and 55% over 25--and they loved it. With the under 18s and the 25-34 year-olds the film earned a stellar "A+" CinemaScore, against excellent "A" scores from the other demos. This coincides with a 92% positive rating that the film has earned on review aggregator Rotten Tomatoes to create one of the few times that audiences and critics agree on a film. Forty-six percent of the audience was between 17 and 34, a demographic that Hollywood is having an increasingly hard time attracting.
Guardians
earned $11.7 million from IMAX venues and 45% of its earnings came from 3-D showings.
The big question is--will
Guardians
have the "legs" that its opening weekend CinemaScores indicate it should have. This summer has not produced much in the way of cinematic longevity. Second weekend drops of more than 60% are standard, and so far no summer film has managed to eclipse 2014's pre-summer hits,
The LEGO Movie
($257.7) and
Captain America: The Winter Soldier
($258.9 million). Will
Guardians
be able to bust this summer's trends again with strong showings through the rest of the month? We will have to wait and see, but the film's debut, which was about $30 million above last week's estimates, demonstrates that the pitiful box office performance this summer (July was down 30% from 2013) is the result of lackluster movies. No matter how well
Guardians
does it won't rescue Hollywood's summer of 2014, which is down 19% from last year through the end of July.
But even it can't singlehandedly save the summer,
Guardians of the Galaxy
has opened up August as viable debut territory for would-be blockbusters in future years, in which the summer movie schedules are getting very crowded (see "
Marvel Grabs Five More Movie Dates
") and it firmly established Marvel Studios as the "live-action equivalent of Pixar," with an enviable track record (save for the Edward Norton
Hulk
movie) of one smash after another. Disney execs, who are hoping for a trifecta with Lucasfilm, should be feeling pretty good about their acquisitions of Pixar and Marvel. Creating a hit out of the rather obscure (but hardly unknown)
Guardians of the Galaxy
property is a major coup for Marvel Studios made only sweeter by Warner Brothers' abject failure with its galaxy-spanning
Green Lantern
property. Perhaps the reason that director James Gunn succeeded was that he based his film on the freebooting space operas and adventure films of the 1970s and 80s (
Star Wars, Indiana Jones
), creating a familiarity of spirit that audiences have responded to with glee. Particularly impressive is the way that Gunn manages to include lots of comedy without spoiling the underlying adventure narrative, a feat that is not easy to accomplish without sliding down the slippery slope of "camp" humor.
Guardians
is a victory for Marvel Studios in another way, since it shows that the tightly-run organization can allow a director to make a Marvel film in his own idiosyncratic style. Gunn, whose most notable earlier effort was the brilliant and vastly underrated horror comedy
Slither
, was an inspired choice to direct
Guardians
, and Marvel deserves all the credit for giving him the opportunity and the resources (the film cost $170 million to produce) to realize his vision. Marvel Studios also should get kudos for choosing Joss Whedon to helm
The Avengers
, the other Marvel film with a very pronounced "director's stamp," after Whedon's
Wonder Woman
project had been rejected by Warner Bros.
On the other side of the ledger are Marvel Studios' disputes with Edward Norton over
The Hulk
and the forced departure of Edgar Wright from the long-gestating
Ant-Man
project. What sort of latitude will Marvel Studios allow in the future, and what sort of directors will the studio employ?
Guardians
also appears to be doing well overseas where it opened in 42 countries (about half of the markets) and earned $66.4 million, doing especially well in Russia ($13 million), the U.K. ($10.8 million), Mexico ($6.5 million), and Brazil ($5.4 million). How well
Guardians
does overseas will be a true test of the Marvel brand, since foreign audiences generally lag the U.S. a bit (something that the producers of
Transformers: Age of Extinction
should be happy about--see below).
Here in North America there can be little doubt that Disney ran a well-conceived and executed marketing plan to introduce an entirely new property in a film in which the biggest name stars (Vin Diesel and Bradley Cooper) are only present as voiceovers for CGI characters. The first
GotG
trailer (see "
First 'Guardians of the Galaxy' Trailer
") began with the humorous introduction of Star Lord, followed by a rap sheet description of the unlikely team of anti-heroes delivered by everyman actor John C. Reilly—the whole point of the trailer is that the various and sundry inhabitants of the
Guardians'
world don't know who these guys are either. Subsequent trailers (see "
New 'Guardians of the Galaxy' Trailer
") provided some slam-bang space opera action and a few glimpses of Rocket Raccoon and Groot. The
GotG
trailers were tantalizing, but they didn't give away the store, the movie has lots of great scenes that weren't revealed in the trailers--something that is very refreshing and probably didn't hurt the movie's CinemaScores either.
Weekend Box Office (Studio Estimates): August 1-3, 2014

Film

Weekend Gross

Screens

Avg./

Screen

Total Gross

Wk#

1

Guardians of the Galaxy

$94,000,000

4,080

$23,039

$94,000,000

1

2

Lucy

$18,283,000

3,202

$5,710

$79,571,000

2

3

Get On Up

$14,031,000

2,468

$5,685

$14,031,000

1

4

Hercules

$10,700,000

3,595

$2,976

$52,348,000

2

5

Dawn of the Planet of the Apes

$8,700,000

3,283

$2,650

$189,330,000

4

6

Planes: Fire & Rescue

$6,424,000

3,241

$1,982

$47,596,000

3

7

The Purge: Anarchy

$5,551,000

2,656

$2,090

$62,962,000

3

8

Sex Tape

$3,550,000

2,500

$1,420

$33,908,000

3

9

And So It Goes

$3,344,000

1,816

$1,841

$10,473,000

2

10

A Most Wanted Man

$3,324,000

729

$4,560

$7,059,000

2
Last week's winner, Luc Besson's
Lucy
, which stars Scarlett Johansson, weathered the "
Guardians
" storm pretty well, dropping just 58% in its second weekend as $18.2 million, bringing its domestic total to $79.6 million, surpassing
The Fifth Element's
$63 million to become Besson's biggest North American hit yet.
Third place went to the James Brown biopic
Get On Up
, which earned $14 million from 2468 theaters for a $5,685 average.
Get On Up
attracted an audience that was 63% female and 90% over 25. The film, which was directed by Tate Taylor (
The Help
) and features an Oscar-worthy performance by Chadwick Boseman, earned a solid "A" CinemaScore from a first weekend crowd that was 70% African-American, 18% Caucasian, and 6% Hispanic. While
Get On Up
may not have tremendous "legs" like Taylor's
The Help
, look for it to hang around in theaters for some time.
Fourth place went to Brett Ratner's
Hercules
, which is based on the Radical Comics title
Hercules: The Thracian Wars
. The sword and sandal epic dropped 64.1% in its second frame as it added $10.7 million, bringing its ten day total to $52.3 million. The $100 million production is doing similar numbers overseas so far ($56.5 million), and it needs to perk up its performance to avoid red ink--though in fairness
Herc
definitely took it right on the chin from
Guardians
and could still bounce back a bit in coming weeks, though making more than $80 million domestic would appear unlikely at this point.
Fox's
Dawn of the Planet of the Apes
, one of this summer's big successes, fell to fifth place in its fourth weekend of release as it earned an estimated $8.7 million to bring its domestic total to $189.3 million, which is already well past the final total of its predecessor
Rise of the Planet of the Apes
($176.7 million). With $258.2 million earned overseas already, it appears that
Dawn
should cross the $500 million mark worldwide in the near future.
Meanwhile Michael Bay's
Transformer's: Age of Extinction
surpassed the $1 billion mark worldwide. The film has already earned a lot more in China ($300 million) than it has in the U.S. ($241 million), though Paramount will only get to keep $100 million of the film's Chinese earnings versus $120 million plus of its U.S. take. Domestically the fourth
Transformers
film fell to #12 as it earned $2.2 million. It will have a hard time making $250 million here, which is $100 million less than the lowest North American total of any of its predecessors.
Be sure to check back here next week to see how
Guardians
will fare in its second frame as it faces competition from a quartet of new films including a Michael Bay-produced
Teenage Mutant Ninja Turtles
movie, the Warner Bros. "found footage" disaster film
Into the Storm
, Lionsgate's fifth dance-themed
Step Up
film, and the adult-skewing Helen Mirren foodie film
The Hundred-Foot Journey
.
--
Tom Flinn