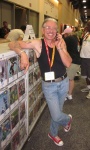 Mile High Comics CEO Chuck Rozanski has posted several newsletters criticizing the expansion of publisher exclusives at San Diego Comic-Con, arguing that it injured sales at his seven front-wall booths and caused him to lose money exhibiting at the show.
He initially noted the issue
early in the show
. "The very organizations that we most support are those who can cause us the most harm when they create exclusive products that can only be purchased through their own booths at shows," he said. "Not only do they divert revenues into their own pockets, but they also diminish our standing in the fan community by making us appear incomplete."
Rozanski also reported that he'd been told by fellow dealers that some publishers were even excluding purchases by attendees wearing retailer badges, which he called "beyond ridiculous."
Rozanski
compared
his sales at Comic-Con to his sales at Denver Comic Con, which had half the attendees that San Diego had, and noted that his Denver sales were double what they were in San Diego, which he attributes to the competition from publisher booths in San Diego.
Rozanski even indicated that he was considering ending his run of exhibiting at 42 consecutive San Diego Comic-Cons, but eventually relented and signed up for 2015.
The issue of competition between publishers and retailers at Comic-Con is not new. In the 00s, publishers began selling their new graphic novel releases at the show before they were available to retailers, and in some cases selling full backlist as well. Some publishers worked with some retailers to make copies of those new releases available to retailers at the show, but it was a losing battle. Of the two gigantic graphic novel booths that exhibited at Comic-Con in the mid-00s (Bud Plant and Comic Relief), only Bud Plant remains, with a much smaller footprint that emphasizes art books. While there were other factors that contributed to those changes, the competition with publishers for graphic novel dollars was certainly a factor.
Publishers selling from their booths arose as the scale of the show and the costs of exhibiting grew since 2000. They want the opportunity to interact directly with consumers and hand-sell their products, and to offset their costs. Exclusive variants are just the latest manifestation of that phenomenon.
New York Comic Con, coming up in October, may be the next show at which this issue comes up. It has a lot of publisher exhibitors, and like San Diego, the city has relatively high costs.