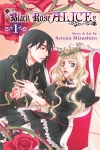 Black Rose Alice Vol. 1 TP
Publisher: VIZ Media
Release Date: August 5, 2014
Price: $9.99
Creator: Setona Mizushiro (story and art)
Format: 192 pgs., Back & White, Trade Paperback
ISBN: 978-1-4215-7160-7
Age Rating: 16+
ICv2 Rating: 4 stars out of 5
In the beginning,
Black Rose Alice
takes place over 100 years ago in Italy. A man named Dimitri is a rising star in the opera world and a playboy at that. Adopted into a rich family, Dimitri does his best to fill the time to distract him from what he really wants… the young fiance that has been promised to his brother/best friend.
One day while walking around he is kicked by a horse and taken away to a facility where he can heal. When he wakes up he notices that things are different for him… his senses are heightened, he is tired during the day and lights bother him. Not only that, but bodies are piling up around him as a string of suicides curse the opera company that he is a part of. Soon another man appears before him and tells him the truth: in the moment that Dimitri was kicked by the horse he died and was turned into a vampire. Escaping from his life in Italy, the story fast forwards to Japan in 2008 where Dimitri now lives. Soon he meets a young woman named Azusa and changes her life forever.
I had never heard of
Black Rose Alice
before I picked it up but as soon as I started reading through it I found that I could not put it down for various reasons. Be warned though that this is not a series for the young or prudish. Mentions of oral sex, bloody death and a near rape scene fill the early chapters and will make anyone uncomfortable with those subjects feel more than a little squeamish.
Anyone who can make it past those mentions and scenes however are going to be pulled in by all that this book has to offer. While the character designs found in these pages can be described as ordinary, the background art is some of the best that I have seen in a very long time, particularly while the story takes place in Italy. Beautiful does not do justice to the wonderful art found within this setting.
Another aspect that should be appreciated is the wonderful twists on the vampire mythos that the author created. These are not standard vampires that everyone already knows about. These are vampires that have their own unique twists, abilities and weaknesses. One could say that the mythos described within these pages is needlessly complicated but I found it to be a refreshing change of pace.
This is a solid read for those who are looking for a slightly more adult vampire story. The artwork is wonderful to look at, the writing doesn't treat the reader like a child, nor will it hold your hand all the way through. If you want something to enjoy this summer, this isn't a bad place to look at all. Recommended.
--
L.B. Bryant