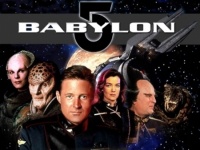 J. Michael Straczynski announced plans to write a
Babylon 5
feature film reboot at Comic-Con, according to
TVwise.co.uk.
Writer/producer J. Michael Straczynski's said that despite the script being a complete series reboot he would like to use cast members from the original series, including Bruce Boxleitner and Mira Furlan in new roles. "I'd love to see Bruce as the President of the Earth Alliance," he said.
When Straczynski originally signed with Warner Bros. to produce the TV series, the deal gave him ownership of the feature film rights to the show. So if Warner Bros. decides to pass on producing a big budget film, Straczyniski has the option to produce it independently under his own Studio JMS company (see "
Straczynski Forms 'Studio JMS'
").
Straczynski has previously pitched several
Babylon 5
features, none of which were produced, and the last official broadcast-related release was the direct-to-DVD anthology
The Lost Tales
(see "
JMS to Write & Direct New 'Bab 5' Release
"), though over the years there have been numerous comic book, novel, miniatures game and RPG adaptations of the franchise. The epic space opera series ran 110 episodes over five years, plus six TV movies.