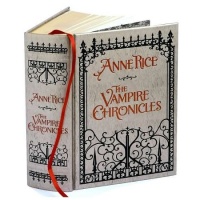 Universal and Imagine Entertainment have acquired rights to Anne Rice's
The Vampire Chronicles
novel series,
The Hollywood Reporter
is reporting.
The deal includes the entire body of existing and future book releases for the series, including a screenplay that Rice's son, Christopher Rice, produced, which Imagine optioned in 2012. There are currently 13 books in the series (including the two 'New Tales of the Vampires' series books), with the latest,
Prince Lestat
releasing this fall.
Alex Kurtzman and Roberto Orci have already been named producers for the planned film adaptations, with Erica Huggins overseeing film production for Imagine Entertainment, and Bobby Cohen to executive produce.
The only previous movie adaptations of the series include 1994's hit
Interview with the Vampire
which starred Tom Cruise, Brad Pitt, Kirsten Dunst and Antonio Banderas, and the forgettable 2002
Queen of the Damned
.
Yen Press produced a graphic novel adaptation
Interview with the Vampire: Claudia's Tale
in 2012 (see "
Yen Press to Publish 'Interview With a Vampire' GN
") and recently announced another (non-vampire) Anne Rice adaptation for publication in November 2014 (see "
Anne Rice's 'The Wolf Gift' Graphic Novel From Yen Press
").