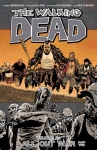 The latest volume of Robert Kirkman's Image Comics series
The Walking Dead: All Out War, Part 2
topped the BookScan list of adult graphic novels sold in bookstores during August Interestingly, this latest volume of
The Walking Dead
, which was released to the book trade on July 29th, was the only
TWD
volume to make the list for August, something that may change as we get to the debut of Season 5 of the AMC series in October. Meanwhile another Image Comics property, Brian K. Vaughan and Fiona Staples'
Saga
, managed to get all 3 volumes in the Top 20 in both the BookScan list and Diamond Comic Distributor's August list of bestselling graphic novels (see "
Top 300 Graphic Novels Actual--August
")--and this science fiction saga, which has strong appeal to both genders, continues to gain strength.
Bryan Lee O'Malley's
Seconds
, which scored with a sparkling debut last month (see "
July BookScan--Top 20 Graphic Novels
"), was in second place (with its standard edition) for the second month in a row--and once again the Barnes & Noble edition of
Seconds
also made the Top 20 (at #14). Last month, if the two editions of
Seconds
had been added together,
Seconds
probably would have topped the list, and the same thing might even have happened this month.
Seconds
, which is published by Random House, is clearly one of the breakout graphic novel hits of the summer--why hasn't it shown up on Diamond's Top 300 Graphic Novel lists?
The latest volume of
Naruto
from VIZ Media, which topped the chart in July, slipped to #3, as it continued to demonstrate the lasting appeal of the mature, but still potent, franchise. The new #1 manga property in North America, Kodansha's
Attack on Titan
continued to show-off its status by landing four titles in the top 12 in August including both the #1 and #2 volumes of the series, which shows that the property is still gaining new readers.
Overall there were nine manga on the Top 20 chart in August, up from six in July. Mention should be made of
Maximum Ride
Vol. 8, the James Patterson-inspired OEL series from Yen Press that just continues to sell, and
Monster Musume
, Vol. 4 from Seven Seas, as well as two solid performers with long track records from Viz Media,
Bleach
and
Rosario+Vampire
.
There is no doubt that
Guardians of the Galaxy
has been the big breakout movie hit of the summer, and unlike many a Marvel big screen epic,
Guardians
actually appears to be able to drive sales of both comics (see "
Top 300 Comics Actual--August 2014
") and graphic novels. The trade paperback of the first volume collecting the new Bendis-penned
Guardians
series, released back in April, was in the Top 10 on both the BookScan and Diamond lists in August.
BookScan reports on the bookstore market, so it is no surprise that comics with literary pedigrees can do well on the list as Jules Feiffer's
Kill My Mother: A Graphic Novel
demonstrates. Bookstores also do very well with perennial-selling backlist title, so it's even less of a surprise that Gene Luen Yang's
American Born Chinese
had a strong presence on the August chart, where it was joined by fellow evergreens, Frank Miller's
Batman: The Dark Knight Returns
, and Alan Moore's
The Killing Joke
.
BookScan Top 20 Graphic Novels in August 2014

Rank

Title

Author

Publisher

1

THE WALKING DEAD VOL. 21

ROBERT KIRKMAN

IMAGE COMICS

2

SECONDS: A GRAPHIC NOVEL HC

BRYAN LEE O'MALLEY

BALLANTINE BOOKS

3

NARUTO VOL. 66

MASASHI KISHIMOTO

VIZ MEDIA

4

GUARDIANS OF THE GALAXY VOL. 1

BRIAN MICHAEL BENDIS

MARVEL COMICS

5

ATTACK ON TITAN VOL. 1

HAJIME ISAYAMA

KODANSHA COMICS

6

AMERICAN BORN CHINESE

GENE LUEN YANG

SQUARE FISH

7

ATTACK ON TITAN: NO REGRETS VOL. 1

GUN SNARK

KODANSHA COMICS

8

ATTACK ON TITAN VOL. 13

HAJIME ISAYAMA

KODANSHA COMICS

9

MAXIMUM RIDE VOL. 8

JAMES PATTERSON

YEN PRESS

10

SAGA VOL. 1

BRIAN K VAUGHAN

IMAGE COMICS

11

SAGA VOL. 3

BRIAN K VAUGHAN

IMAGE COMICS

12

ATTACK ON TITAN VOL. 2

HAJIME ISAYAMA

KODANSHA COMICS

13

ROSARIO + VAMPIRE SEASON II VOL. 13

AKIHISA IKEDA

VIZ MEDIA

14

SECONDS: A GRAPHIC NOVEL HC (B&N EXCLUSIVE)

BRYAN LEE O'MALLEY

BALLANTINE BOOKS

15

BATMAN: THE DARK KNIGHT RETURNS

FRANK MILLER

DC COMICS

16

BATMAN: THE KILLING JOKE DLX ED

ALAN MOORE

DC COMICS

17

MONSTER MUSUME VOL. 4

OKAYADO

SEAVEN SEAS

18

KILL MY MOTHER: A GRAPHIC NOVEL

JULES FEIFFER

LIVERIGHT

19

BLEACH VOL. 61

TITE KUBO

VIZ MEDIA

20

SAGA VOL. 2

BRIAN K VAUGHAN

IMAGE COMICS
For past BookScan Top 20 Graphic Novel lists, see the "
BookScan Top 20 GN Index
."