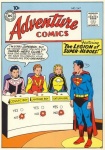 The tremendous success of James Gunn's
Guardians of the Galaxy
(in the North American market) has reportedly led Warner Bros. to seriously consider making a film based on the exploits of DC Comics' teenagers from the future,
The Legion of Super-Heroes
. Created by Otto Binder and Al Plastino in 1958, the
Legion of Super-Heroes
is a group of teen superheroes from the 31st Century (or the 30th, depending).
As a supergoup the
LOSH
teens predated the
Justice League
, the
Avengers
, the
FF
, and the
X-Men
, but, with the exception of a few intermittent flashes of popularity through the years, the
Legion
, which has had more than its share of oddball characters over the years with names that sound like they have been lifted from outtakes of
The Simpsons
(Lightning Lad, Colossal Boy, Duo Damsel, Matter Eater Lad), has long had only a small (but devoted) band of readers who could follow the groups twisted and often retconned continuity.
Now the
Latino Review
, citing "inside sources" claims that, thanks to the interstellar success of
Guardians of the Galaxy
(and in spite of Warner Bros. abject failure with DC's outer space cop/superhero
Green Lantern
), Warner Bros. is quietly sending out
LOSH
comics to various screenwriters, who are then invited to pitch their ideas for films featuring the
Legion
.
If Warner Bros., which recently staked claims on nine debut dates for DC-based films between 2016 and 2020 (see "
Batman Blinks
"), does get serious about making a
LOSH
film, the studio would be well-advised to find a director like
Guardians'
James Gunn, who can inject enough of his own personality into the film to give it some interest—and a little quirky humor wouldn't hurt either.
But
LOSH
fans shouldn't get their hopes too high. Even if the process of fishing for "takes" that the
Latino Review
describes is actually happening, it indicates that Warners is not sold enough on the property to commission screenplays or treatments from specific writers, which means that the development process for a
LOSH
film will involve several more steps than a typical film on the long, often torturous path to the big screen.