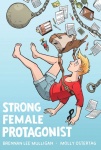 Top Shelf Productions will distribute Bennan Lee Mulligan and Molly Ostertag's self-published graphic novel
Strong Female Protagonist,
releasing in December.
The graphic novel includes the first four chapters and bonus material from Mulligan and Ostertag's popular ongoing webcomic. The duo funded the print publication through a Kickstarter campaign in June, raising $60,974 from 1,967 backers ($40.00/backer average). The 220-page 6" x 9" mostly black and white softcover has an MSRP of $19.95.
The story follows Alison Green, a former teen superhero with the powers of superstrength and invulnerability, who fought crime under the alter ego Mega Girl. However, after an encounter with her mind-reading arch enemy Menace showed her evidence of a conspiracy, she abruptly left the superhero gig behind. Now she attends college, trying to help the world in a different way, but her past can't be left at the classroom door.