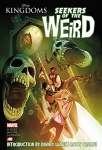 Disney Kingdoms: Seekers of the Weird HC
Publisher: Marvel
Release Date: August 12, 2014
Price: $24.99
Creator(s): Brandon Seifert (writer), Karl Moline (artist)
Format: 136 pgs., Full-Color, Hardcover
ISBN: 978-0-7851-5452-5
Age Rating: All Ages
ICv2 Rating: 5 Stars out of 5
The Keeps family are the owners of the Keep It Weird curio shop but their teen kids, bookish Max and athletic Melody, are uninterested in the family business. That is until their parents disappear, and to save them and the world they have to solve the many mysteries of the Museum of the Weird with only the help of their roguish Uncle Roland.
The idea of turning Disney park attractions into stories seems dubious at best and so my expectations for this title were accordingly low. And being able to wring something remotely original from its premise: tweens get caught up in a mystic war between good and evil, seemed equally unlikely. But I'm happy to report just how wrong I was because
Disney Kingdoms: Seekers of the Weird
is an unexpected delight.
Rolly Crump's original designs for the never-built Museum of the Weird feature such genuinely creepy concepts as the Grandfather Coffin Clock and The Candle Man. And the fantasy and horror are nicely grounded by The Keeps kids, especially Melody who keeps finding new inventive uses for her ubiquitous lacrosse stick. It's a great comic for kids, well worthy of a hardcover collection (it's full of such extras as Rolly Crump's original designs). But then, it's a great comic for everyone.
--
Steve Bennett: Writer and retail services consultant.