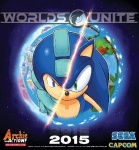 New York Comic Con News:
In advance of this week's New York Comic Con, Archie Comics has unveiled a teaser that hints broadly at a second Archie Comics crossover event,
World's Unite
, which will run through the
Sonic
the Hedgehog
and
Mega Man
titles in the spring of 2015.
The
Worlds Unite
crossover will be written by Ian Flynn and feature covers by Patrick "Spaz" Spaziante. Look for more details to be released over the course of the NYCC this weekend.