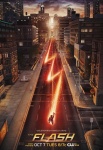 Last night the CW's
The Flash
scored a sterling debut, averaging a strong 1.8 rating/6 share in the coveted 18-49 demographic and netting 4.5 million viewers overall. This performance easily topped
Arrow's
2012 CW premiere, which scored a 1.3 in the key demo, good enough to set its own record at the time (see "
'Arrow Sets CW Viewing Records
").
The Flash's
debut was the best posted on the CW since
Vampire Diaries
bowed in 2009.
According to
Variety
,
The Flash
premiere finished second for its timeslot among adults 18-34 (losing out to NBC's
The Voice
), and the numbers were even better for the 12-24 demo (1.8/8), an indication that the show did especially well with teens. In fact
The Flash
drew more young adults than any show aired Tuesday night on ABC (including
Marvel's Agents of S.H.I.E.L.D
.).
Another good sign for
The Flash
was the fact that its audience grew over the hour adding about 500,000 viewers to boost its total to 4.8 million.
The Flash
debut was the most watched show in the Tuesday 8pm (7pm Central) slot on the CW in more than seven years, and scored the net's best 18-49 rating in more than six years.
But it is important to remember that many shows do well at first, but fade quickly.
The Flash
, which Executive Producer Geoff Johns characterized as "the most comic book show ever" (see "
First Look at Wentworth Miller as Captain Cold
"), is, judging from its first episode, an unabashed superhero show with an attractive young cast and strong production values, so its success or failure will be something of a litmus test for superhero action in network prime time.
The Flash
is also "stuck" on the CW, which may be a limiting factor. For example
Gotham
drew 8 million viewers for its premiere on Fox (see "
'Gotham' Premiere Nets 8 Million
") and 6.36 million for its most recent episode, numbers that just don't seem possible for a show on the CW.